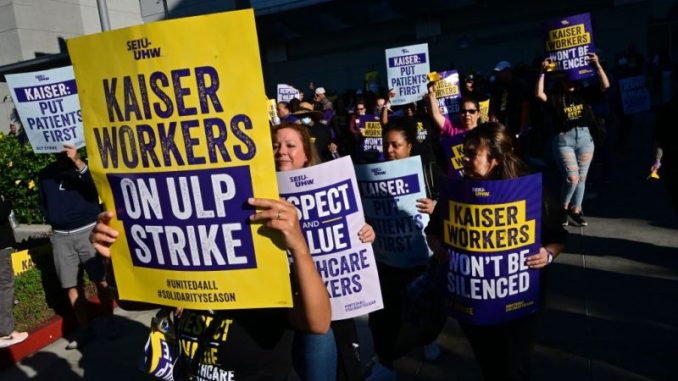 OAN's Rayana Unutoa
12:55 PM – Thursday, November 9, 2023
Tens of thousands of Kaiser Permanente health care workers have ratified a new deal with the company after months of negotiations.
Advertisement
On Thursday, the Coalition of Kaiser Permanente Unions announced most of its 85,000 members voted to approve a new four-year contract which includes a 21% wage increase over four years.
In California, the minimum wage will increase to $25 an hour. In other states the company operates in, the minimum wage has been raised to $23 an hour.
The agreement also included an increased payout for employees under a performance-sharing plan and initiatives to invest in the current workforce.
In a push to address the staffing crisis, the deal also features increased training and mass hiring events.
The new contract is effective immediately. It will expire in September 2027.
The company currently operates in 39 hospitals and serves around 13 million people yearly.
Stay informed! Receive breaking news blasts directly to your inbox for free. Subscribe here. https://www.oann.com/alerts