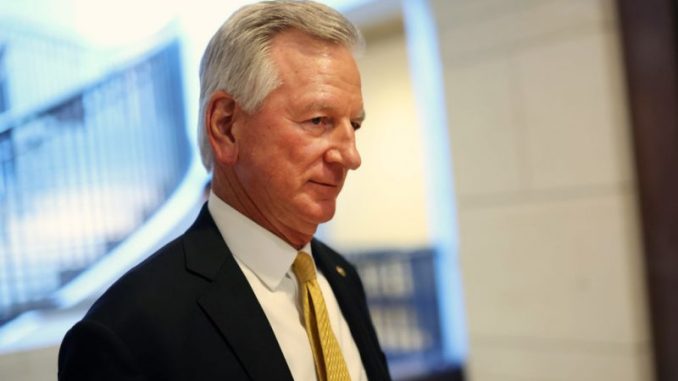 OAN's Taylor Tinsley
2:18 PM – Thursday, November 2, 2023
Senator Tommy Tuberville is facing mounting pressure from fellow Republicans to end his blockade on military nominations.
Advertisement
GOP Senators including Dan Sullivan (R-Ark.), Joni Ernst (R-Iowa.), Lindsey Graham (R-S.C.), Mitt Romney (R-Utah.) and Todd Young (R-Ind.) spoke for more than four hours on the Senate floor on Wednesday night. While there, they slammed Tuberville (R-Ala.) for not letting up on his hold of nearly 400 military nominations.
Each time one of the senators asked for unanimous consent by voice vote, Tuberville objected one nomination at a time.
"You've just denied this lady a promotion," Senator Graham said. "You did that. All of us are ready to promote her because she deserves to be promoted, she had nothing to do with this policy… Whether you believe it or not Senator Tuberville, this is doing great damage to our military."
Tuberville's months-long blockade comes in protest of a Pentagon policy that pays for service members and dependents time-off and travel to get an abortion.
Others in opposition also noted the Alabama Senator is now holding up leadership positions in the Middle East amid conflict between Israel and Hamas.
"We're definitely impacting readiness and we're definitely impacting morale," Senator Sullivan said. "So again, my colleagues saying 'don't worry there's no readiness problems,' no offense but that's just ridiculous."
During an interview with News Nation on Thursday, Tuberville said all he wants to do is negotiate. 
"We had a very good abortion policy in the military before the Biden Administration changed it without going through Congress, so hopefully we can get some negotiations that's all I want," said Tuberville. "Let's negotiate this thing. I know I'm not going to get 100% of what I want but at least we can make it fair for everybody."
The Alabama Republican questioned why the Biden Administration changed the policy that was voted in over 40-years ago. He asserted it worked perfectly and had no complaints. 
Tuberville maintains that it's not fair for the American taxpayer to have to pay for a policy, because no one even knows what it really is. He also stated that he wants to meet with President Biden and Defense Secretary Lloyd Austin to go over the policy and "get it down on paper."
Stay informed! Receive breaking news blasts directly to your inbox for free. Subscribe here. https://www.oann.com/alerts