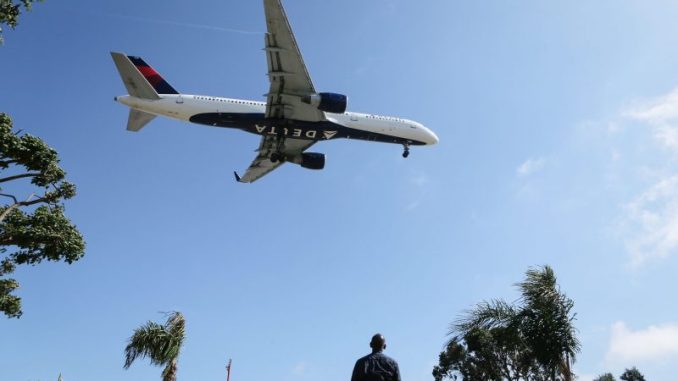 OAN's Stephanie Stahl
1:29 PM – Wednesday, November 1, 2023
A former Delta airlines co-pilot was federally indicted for threatening to shoot the captain of a commercial flight if he diverted the plane due to a passenger's medical emergency. Authorities confirmed the indictment on Tuesday. 
Advertisement
Jonathan Dunn was indicted by a Utah grand jury on October 18th. Dunn faces one count of interference with a flight crew. The reported incident took place on August 22nd, 2022, according to the Department of Transportation's inspector general's office. 
A Delta airlines spokesperson verified that Jonathan Dunn was employed as a Delta first officer at the time of the incident. Dunn is no longer employed by the airline. 
According to investigators, a disagreement arose between Dunn, the co-pilot, and the captain, who was considering diverting the flight so a passenger could receive medical attention. 
During the disagreement, Dunn allegedly "told the captain they would be shot multiple times" if the flight was diverted, the inspector general said.
Authorities report that Dunn was armed during the flight. He was authorized to possess a firearm in the cockpit on domestic flights under the Transportation Safety Administration's Federal Flight Deck Officer program. Pilots in the program undergo specialized training to carry a TSA-issued weapon for the purpose of safeguarding the flight deck against potential hijacking attempts.
Authorities did not indicate how the altercation between Dunn and the pilot was resolved. 
According to the lengthy indictment, Dunn did "assault and intimidate" a crew member of an aircraft and used a "dangerous" weapon to do so. 
A spokesperson for TSA announced that it is "aware of an incident" involving a Federal Flight Deck Officer and that Dunn has been removed from the FFDO program. 
Dunn's arraignment is set for November 16th.
Stay informed! Receive breaking news blasts directly to your inbox for free. Subscribe here. https://www.oann.com/alerts