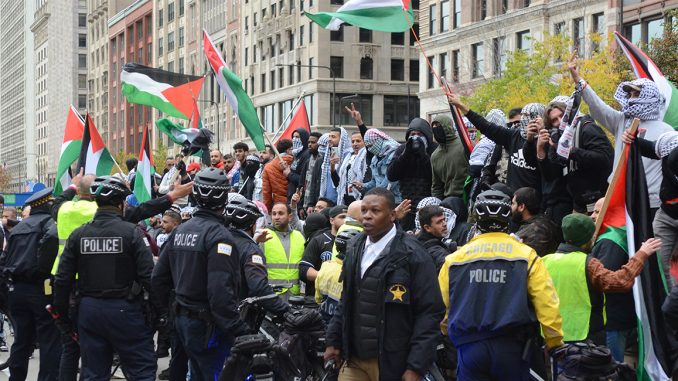 An extremist group that believes black Americans and other people of color are the real descendants of the ancient Israelites clashed Saturday with pro-Palestine protesters in Chicago while police attempted to calm the two groups. 
The sometimes violent exchanges between pro-Palestine protesters and members or supporters of Black Hebrew Israelites followed a march around the Chicago Loop organized by a group called the Chicago Coalition for Justice in Palestine, police said.  
Pro-Palestine and pro-Hamas protesters chanted their demand for a cease-fire in the Israel-Hamas war.  
Thirty minutes into the march, altercations began to break out among the thousands of protesters, CBS News Chicago reported. Video reports show members and supporters of Black Hebrew Israelites and pro-Palestine groups violently attacking each other, some using flags as weapons and others throwing objects.  
One pro-Palestine protester was caught on video shouting the N-word at Black Hebrew Israelites during the conflict between demonstrators, revealing more of the complexity of historic Middle East issues. 
Since Oct. 7, when Hamas terrorists killed 1,400 in Israel, most of them civilians, pro-Palestine groups across the world have blamed Israel and chanted in support of exterminating Jews.  (In Sydney, Australia, pro-Palestine protesters chanted "Gas the Jews" on Oct. 9.) 
Black Hebrew Israelites are known for their antisemitism and for teaching adherents that God will make whites slaves and force them into "eternal servitude" for being "spawns of the devil,"  CNN reported in 2019.
"Black Hebrew Israelites are not Jews and black Jews are not the same as Black Hebrew Israelites," the Anti-Defamation League says in an extensive 2020 backgrounder on its website. "Black Jews and Jews of color are genuine members of the Jewish faith."
A cease-fire between Israel and Hamas remains unlikely.  
"Just as the United States would not agree to a cease-fire after the bombing of Pearl Harbor, or after the terrorist attacks of 9/11, Israel will not agree to a cessation of hostilities with Hamas after the horrific attacks of Oct. 7," Israeli Prime Minister Benjamin Netanyahu said Monday at a press conference in Tel Aviv. 
Have an opinion about this article? To sound off, please email letters@DailySignal.com, and we'll consider publishing your edited remarks in our regular "We Hear You" feature. Remember to include the URL or headline of the article plus your name and town and/or state.