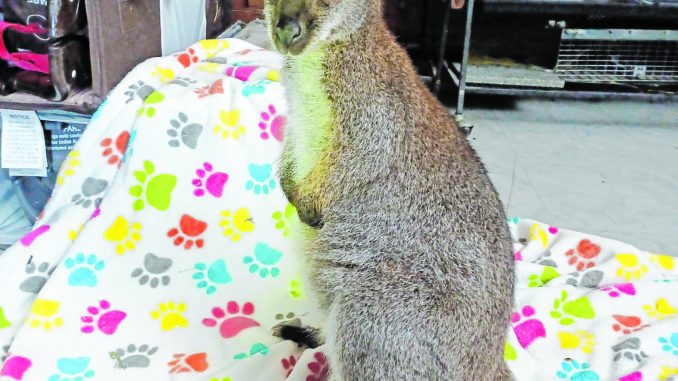 Exotic, unwanted and wild animals find shelter at LI animal facility
Lori Ketchum, one of the directors of the Save The Animals Rescue Foundation, spends her days fielding calls, feeding creatures, and cleaning up poop. Lots of poop. Her facility in Middle Island is the premier rescue for injured wildlife, unwanted unusual pets, and abandoned exotic animals.
When the NYPD seized a baby wallaby that was being exhibited illegally earlier this year, her team sprang into action. The wallaby is being cared for at the facility and will soon be housed in a permanent marsupial shelter.
The rescue is a non-profit that is staffed by volunteers. They care for a huge variety of animals, from baby possums rescued from their mother's dead body to abandoned tortoises and wounded owls. Neglected and discarded pets are a persistent problem.
"You really shouldn't have these animals in homes. Unfortunately a lot of the exotic animals are not actually designated illegal to have, it's just impractical for the animal or the person who brings it home to have them." Ketchum said.
Escaped exotics are another way these animals find themselves in STAR's care. "Either they lost it and didn't know how to go about looking for something they weren't supposed to have or dumped it and didn't care. We get reports of people seeing these bizarre things. And you can never say 'that's impossible.' Most people who have them aren't going to come forward and say I lost this."
One example is the Tegu lizard now living at STAR. A woman found the lizard under her shed and was feeding it cat food. She called the rescue as the weather began to get cold, out of concern for the animal's well being. Wild animals that are injured and cannot care for themselves may also be a candidate for rescue and rehabilitation, such as the great horned owl in care at press time. Others, such as the two oyster catchers, have sustained a disabling injury and should go to the long-term care of another qualified facility.
Animals who are permanent residents and are docile enough may be added to the education program, which brings these animals around Long Island for teaching purposes. This is different from a petting exhibition in that the wild animals are only handled by certified staff. The programs are a way of educating the public about these animals and keeps them from being euthanized. "We don't exploit our animals, we do not take anyone somewhere that's going to cause them distress. If an animal is not happy with being handled and being shown to people, we don't do it. So if the animal is adjusted to that, we feel it's appropriate to use it for an educational purpose," said Ketchum.
STAR is the only local facility that could properly care for the sloths from Sloth Encounters if they were to be removed. This is because of the very specific requirements to keep the sloths healthy and safe. "Sloths require a lot more than just some fencing and a house. They require 90 to 100 percent humidity. They grow algae on their hair that you need to have there. It's part of their whole system. They poop like three pounds at a time. They have to have fresh leaves; you can't just go snap off an oak branch, you have to have the right kind of vegetation. It has to be fresh and growing. We have a couple of glass-walled pens where we would temporarily house whatever comes in, do the best we can and move it on," said Ketchum.
Living at STAR would be temporary while arrangements were made to transfer them to one of several sanctuaries in the southern United States, where they would remain for the rest of their lives. Because they were not raised in the wild, these sloths cannot return to the jungles of South America, where they belong. Like most wild animals, sloths do not want to interact with people. Ketchum said, "one of the number one things about sloths is they don't want to be handled. They're not cuddly. They need to be left alone, they move slow. They have very delicate digestive systems and ecosystems on their bodies, and you shouldn't be handling them. So taking them into people's homes, to hold them and take pictures, is bad for them."
There is no way to know how many or what kinds of exotic animals are living on Long Island in private homes. In the past, there have been amnesty days where people can surrender their exotics to local authorities, but they require careful planning to prevent facilities from being overwhelmed. There is proposed legislation to add an exotic animal definition to the state laws governing the possession of wild and domestic animals. Even if the change is made, there will always be a need for places like the STAR Foundation.
STAR is always seeking dedicated adult volunteers and donations. They also have some legal pets for adoption. For more information, visit savetheanimalsrescue.org. For General inquiries or questions, email info@savetheanimalsrescue.org. For Urgent wildlife assistance, call (631) 736-8207.