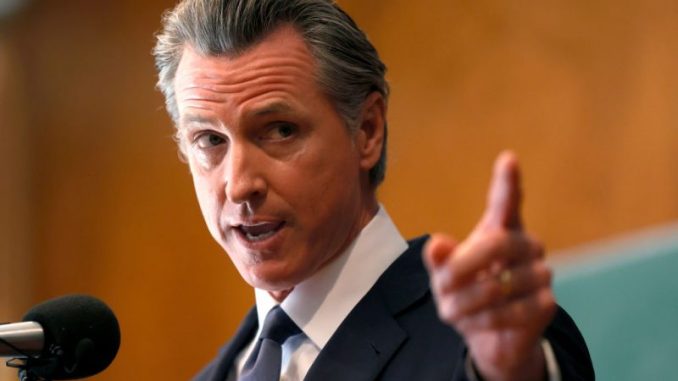 OAN's James Meyers
1:24 PM – Tuesday, September 19, 2023
California Democrat Governor Gavin Newsom defended President Joe Biden over his handling of the country, age, and his possible reelection bid, maintaining that he wants a "seasoned pro."
Advertisement
"I want a seasoned pro that knows how to get things done," Newsom (D-Calif.) said in an interview with CNN's Dana Bash. "I'm a little old-fashioned. I want a guy who produces results — and the results are in, it's been a masterclass."

"There's simply no administration in my lifetime that's been more effective producing more substantive results and we haven't even started the campaign," Newsom continued.
The governor was responding to a recent News/YouGov survey, which showed only a third of participants said that they think Biden would be able to finish a second term. 
Additionally, Newsom came to the defense of Hunter Biden on being indicted on his three federal gun charges. 
"One of the things that Republicans are relentless on, of course, is Hunter Biden," CNN host Dana Bash began. "There is no evidence that Joe Biden benefited from anything that Hunter was doing, but Republicans have shown that Hunter Biden – he tried to leverage his father's name, and that the president allegedly before he was president joined phone calls that Hunter Biden's business associates were on. Do you see anything inappropriate there?"
"I don't know enough about the details of that. I mean I've seen a little of that," Newsom responded. "If that's the new criteria, there are a lot of folks in a lot of industries – not just in politics – where people have family members and relationships and they're trying to parlay and get a little influence and benefit in that respect. That's hardly unique."
"I don't love that any more than you love it or other people I imagine love that. We want to see a lot less of that, but an impeachment inquiry? Give me a break," he added.
"Threatening a government shutdown again after we went through that process with the debt ceiling. This is student government," Newsom continued. "This is a joke. Ready, fire, aim. I mean, this is a perversity that the founding fathers never conceived of and imagined. So, if that's the best they can do, give me a break. That's about public opinion."
Hunter's legal team recently filed a lawsuit against the IRS, claiming that the agency "targeted and sought to embarrass" him by exposing his tax returns to the public through television and podcast appearances.
However, critics claim that Hunter's legal team filed the lawsuit in order to shift attention away from his ongoing felony gun charges against him.
Meanwhile, House Speaker Kevin McCarthy (R-Calif.) has launched an impeachment inquiry into the current president's alleged involvement in his son's business dealings.
Republicans also claim that they have evidence of phone calls and statements made by Hunter, as well as proof of dinners Biden had attended, claiming he was aware of what his son was involved in. 
Furthermore, Newsom has repeatedly claimed that he will not run for president in the 2024 election, even if Biden does not seek a reelection bid. 
Newsom emphasized in the interview that he will not run, "No, I'm not that guy, I'm just not."
Stay informed! Receive breaking news blasts directly to your inbox for free. Subscribe here. https://www.oann.com/alerts