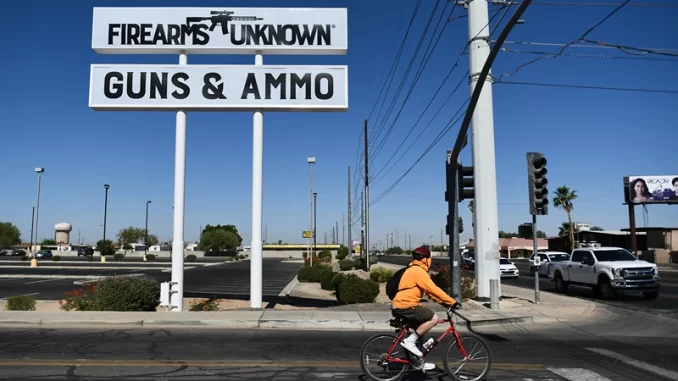 OAN's Abril Elfi
11:50 AM – Friday, September 8, 2023
Lawmakers in California have approved raising taxes on guns and ammunition as a way to raise money for school safety.
Advertisement
On Thursday, the California Senate passed a proposal to raise taxes on guns and ammunition by 11% as a way to help pay for school security upgrades and gun violence prevention programs.
The bill would be imposed on dealers and manufacturers beginning July 1, 2024.
The proposal was introduced by Democrat Assembly Member Jesse Gabriel who represents parts of Los Angeles and Ventura counties. 
"We've passed a lot of good gun safety laws. The data shows that we have a lower gun death rate here in California than we do in other states. But this was one of the big things that was still out there," Gabriel told the press.
If the law is passed, the tax would be raised by 11% which is the highest tax imposed by the federal government on firearms. 
The bill would not apply for people who buy the guns but instead would make the sellers pay the tax. However, most businesses will raise their prices to pay the expense of the tax. 
The new law would reportedly also not apply to police officers or businesses with sales of less than $5,000 in a three-month period.
The bill now heads to Governor Gavin Newsom (D-Calif.), who has until October 14th to decide whether to sign it into law or veto it.
In recent years, Newsom has been on a effort to improve gun safety, signing legislation last year that allows private citizens to enforce the state's ban on assault weapons by filing civil lawsuits against anyone who distributes the weapons, parts that can be used to build the weapons, guns without serial numbers, or .50-caliber rifles.
Stay informed! Receive breaking news blasts directly to your inbox for free. Subscribe here. https://www.oann.com/alerts