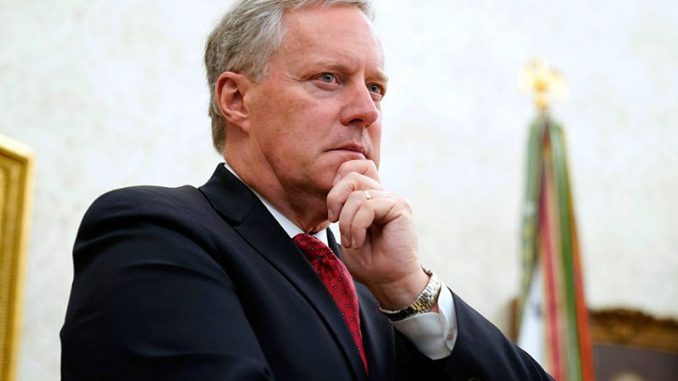 OAN's Daniel Baldwin
7:11 AM – Wednesday, September 6, 2023
Former White House chief of staff Mark Meadows pleaded not guilty to charges alleged against him from an election interference case in Georgia involving 45th president Donald Trump.
Advertisement
Fulton County District Attorney Fani Willis charged Meadows with two counts: violating Georgia's anti-racketeering RICO law and soliciting a public official to violate their oath. 
Eighteen of the 19 defendants have pleaded not guilty in their respective cases. Former Coffee County election official Misty Hampton has yet to enter a plea. 
Founder and president of the Article III Project, Mike Davis, told One America News that the 19 co-defendants ought to move to dismiss the case on two grounds."
"Number one, they have government immunity, presidential immunity, sovereign immunity," Davis said. "And alternatively, if they're acting within their personal capacity, this is activity that's protected by the First Amendment. You can redress the government. You can twist arms politically."
"It is not illegal to object to presidential elections," continued Davis. "It's allowed by the Electoral Count Act of 1887. It's not illegal to twist arms politically that's allowed by the First Amendment.
Meadows is also awaiting a ruling from U.S. District Judge Steve Jones on his bid to move his case into the federal jurisdiction.
"There's no question this case should be in federal court," Davis said. "These are charges against a former federal official based upon things that he did within his official duty."
Federal statute 28 U.S. Code § 1442 which says, "A civil action or criminal prosecution that is commenced in a State court and that is against or directed to any of the following may be removed by them to the district court of the United States for the district and division embracing the place wherein it is pending…any officer (or any person acting under that officer) of the United States."
"And once you get this out of this Georgia Court, you'll get it to the federal court in Georgia," Davis said. "And then you can move to dismiss these charges on government immunity and First Amendment grounds."
Trump has not filed to move his case to federal jurisdiction, yet many legal experts, including Davis, expect him to do so. 
"There's presidential immunity," said Davis. "And the case law is very clear that if you're acting within your presidential powers or in the outer perimeter of your presidential powers, you have immunity."
Trump's legal teams are expected to argue that he is entitled to sweeping protection against criminal prosecution for actions he took regarding his White House duties. Trump attorney John Lauro has already said Trump will file a pretrial motion arguing presidential immunity in his federal Jan. 6 case. 
Davis explained this indictment is criminalizing government officials for acting within the parameters of their jobs.
"You can't have it where these government officials worry about being criminally charged for performing their official duties," Davis said.
Stay informed! Receive breaking news blasts directly to your inbox for free. Subscribe here. https://www.oann.com/alerts