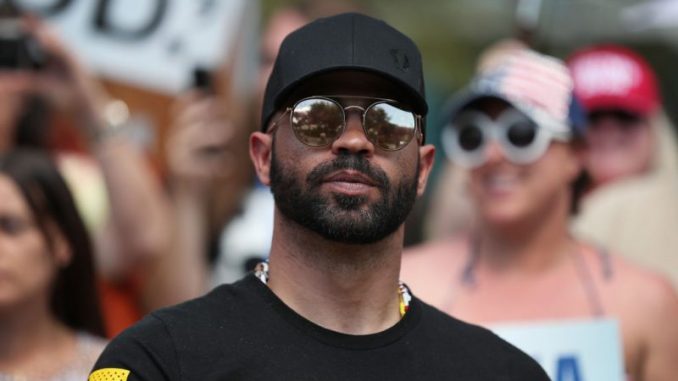 OAN's James Meyers
5:15 PM – Tuesday, September 5, 2023
Former Proud Boys leader Enrique Tarrio was sentenced to 22 years in prison by Federal Judge Tim Kelly on Tuesday, for "taking a lead role" in the January 6th protest. 
Advertisement
This is the longest sentence to date for any member who was involved in the protest at the U.S. Capitol. 
The 39-year-old, who was the former national chairman of the group, was convicted in May by the January 6th committee on seditious conspiracy for working with other members to stop the transfer of power between then-President Donald Trump to current-President Joe Biden. 
Prosecutors were initially seeking a 33-year prison sentence for Tarrio, which also would have been the strictest punishment recommendation for someone charged in the Justice Department's investigation into the U.S. Capitol breach. 
However, Tarrio, who was not present in Washington, D.C., the day of the protest, was arrested two days prior and ordered to stay out of the city with prosecutors claiming that he still organized and directed the mob of people. 
During the sentencing, prosecutors described Tarrio as a "naturally charismatic leader" and "a savvy propagandist" who then used his influence over his followers to help prompt the protest. 
"This defendant, and his co-conspirators targeted our entire system of government," assistant U.S. Attorney Conor Mulroe said during Tuesday's hearing. "This offense involved calculation and deliberation. We need to make sure that the consequences are abundantly clear to anyone who might be unhappy with the results in 2024, 2028, 2032 or any future election for as long as this case is remembered."
However, Tarrio's attorneys claimed that the January 6th committee exaggerated his intentions and that his real goal of rallying members of the group to Washington, D.C., was to confront protesters from the far-left terrorist organization Antifa.
Attorneys also argued that he never directed any of his followers movements and had no ability to control his followers' actions at the time of the event.
"My client is no terrorist. My client is a misguided patriot, that's what my client is," Tarrio's attorney Sabino Jauregui said. "He was trying to protect this country, as misguided as he was."
Tarrio spoke at the hearing, apologizing for his actions, "I will have to live with that shame and disappointment for the rest of my life," Tarrio said. "We invoked 1776 and the Constitution of the United States and that was so wrong to do. That was a perversion. The events of January 6th is something that should never be celebrated."
Kelly also sentenced other Proud Boys leaders last week.
He sentenced Joseph Biggs to 17 years in prison, Zachary Rehl to 15 years in prison, and Ethan Nordean was sentenced to 18 years in prison. 
"The defendants understood the stakes, and they embraced their role in bringing about a revolution, "prosecutors wrote in a sentencing memorandum earlier this month for Tarrio and other Proud Boys. "they unleashed a force on the capitol that was calculated to exert their political will on elected officials by force and to undo the results of a democratic election. The foot soldiers of the right aimed to keep their leader in power. They failed. They are not heroes; they are criminals." 
Stay informed! Receive breaking news blasts directly to your inbox for free. Subscribe here. https://www.oann.com/alerts