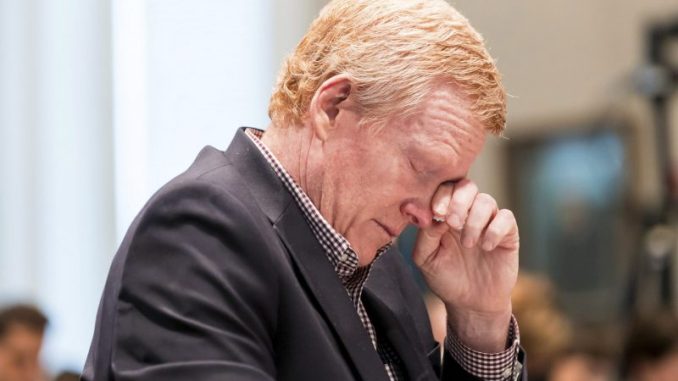 OAN's Taylor Tinsley
1:30 PM – Tuesday, September 5, 2023
Attorneys for convicted murderer Alex Murdaugh filed a motion for a new trial on Tuesday, based on "newly discovered" evidence of alleged jury tampering.
Advertisement
Lawyers Dick Harpootlian and Jim Griffin held a press conference near the South Carolina Court of appeals. The two said they also submitted a request for a federal investigation into the violation of Murdaugh's civil rights. 
"The allegations in the petition filed today speak for themselves," said Harpootlian. "But we believe they explain a number of peculiarities in the six week trial."
The motion alleges that Rebecca Hill, who is the Colleton County Clerk of Court, tampered with the jury by telling them "not to be fooled by" Murdaugh's testimony and to not be misled by evidence presented in his defense.
Lawyers further allege Hill pressured the jury into reaching a quick guilty verdict. They claim she even misrepresented critical information to the judge in an effort to remove a juror she believed to be favorable to the defense.
Murdaugh's attorneys also stated that they received information suggesting that they should take a look inside what occurred in the jury room.
"One of the things we heard was once the jury went out even though there were six smokers and they were given smoke breaks during the entire trial, once the jury went out they were told no more smoke breaks," Harpootlian said. "People that want nicotine you're going to have to get a verdict first."
Murdaugh's other lawyer, Jim Griffin, added they're "very confided the information is accurate."
The once prominent South Carolina lawyer was given a double life sentence for the murder of his wife, Maggie, and their son, Paul, in 2021.
"Alex Murdaugh maintained and still maintains his innocence in the murder of Maggie and Paul and believes the truth will only prevail," Griffin added.
The attorney general has 10 days to respond to the motion.
Stay informed! Receive breaking news blasts directly to your inbox for free. Subscribe here. https://www.oann.com/alerts