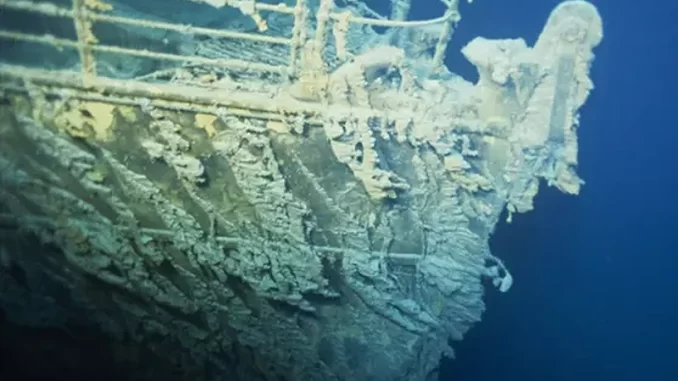 OAN's Roy Francis
10:05 AM – Wednesday, August 30, 2023
The United States is attempting to stop a planned expedition to the Titanic wreckage in 2024, citing federal laws and international agreements that declare the site of the wreckage a hallowed grave site.
Advertisement
Georgia-based RMST Titanic Inc., which owns the salvage rights to the Titanic wreck, has organized a voyage to the wreckage. The purpose of the expedition is to take photos of the entire ship, enter its hull, and recover certain artifacts.
The government is attempting to prevent the voyage, arguing that entering the Titanic's hull, which is what the RMST intends to do, is a violation of a federal law and a pact with Great Britain to treat the ship as a memorial to the 1,500 lives that were lost during the tragedy in 1912.
"RMST is not free to disregard this validly enacted federal law, yet that is its stated intent," court documents submitted by the lawyers said. They argued that the shipwreck "will be deprived of the protections Congress granted it."
The trip is planned for May 2024. The RMST said that the purpose of the trip is to take pictures of the entire ship, including on the inside. The company also said that they would recover "free-standing" artifacts in the debris field, and the Macroni room.
The RMST clarified that it would only recover objects that "are not affixed to the wreck itself."
The Macroni room holds the ship's radio which was the first to broadcast the Morse code messages about the Titanic's collision with the iceberg.
"At this time, the company does not intend to cut into the wreck or detach any part of the wreck," RMST stated.
The RMST has also stated that even though they will not pursue a permit, they will work with the National Oceanic and Atmospheric Administration that represents the public interest in the wreck.
However, the U.S. government said that they will not be able to proceed with the expedition without first being approved for a permit, and gaining the approval of the Secretary of Commerce.
This is the second time that the U.S. government has attempted to prevent the RMST Titanic Inc. from undergoing an expedition to the site in order to recover certain objects.
In 2020, the government similarly attempted to prevent the company from undergoing a mission to retrieve a radio onboard. However, a judge had ruled in favor of the company, saying that the radio is "historically and culturally" important and that it should be recovered before it is lost due to decay.
The legal challenge, which comes almost three months after five people had been killed during the Oceangate voyage to the wreckage, is currently being played out in the U.S. District Court in Norfolk, Virginia which overseas Titanic salvage issues.