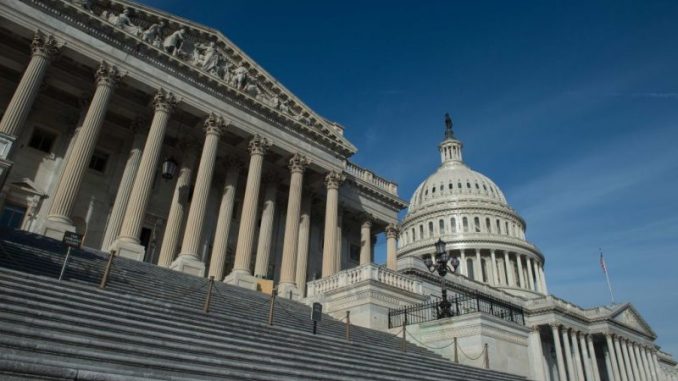 OAN's Roy Francis
8:18 AM – Wednesday, August 30, 2023
The father of a United States Marine who was killed in the terrorist attack at Kabul airport in Afghanistan during the withdrawal in 2021 ripped into the president on Capitol Hill on Tuesday.
Advertisement
The House Foreign Affairs Committee held a roundtable discussion with the Gold Star families of the 13 U.S. service members who were killed in the bombing at Kabul airport. Among those families was Mark Schmitz, the father of Marine Lance Col. Jared Schmitz who had died during the bombing.
Schmitz ripped into President Joe Biden saying that "not a single person has been held accountable" for the bombing on the day and the catastrophe of the entire withdrawal. He went on to call the president "a disgrace to this nation" and that he has "no business having ultimate command over our military."
"Not a single person has been held accountable," Schmitz said. "Our so-called leader can't seem to even utter their names in public, not even once. You are a disgrace to this nation. You have no business having ultimate command over our military, and I regret not saying that to your face when I had the opportunity in Dover. I felt it more important to bite my tongue, but I also had more important things on my mind at that time, like receiving my son's lifeless body stateside."
He also recalled the events on the tarmac at Dover Air Force Base during the dignified transfer ceremony when the president had kept checking his watch.
"While I stood there on the tarmac watching you check your watch over and over again," he said. "All I wanted to do was shout out, 'It's 2 —-ing 30, —hole.' But out of respect of the other grieving families, I bit my tongue once again. Well, as you can probably tell by now, I'm done biting my tongue. You, sir, stole their lives, their futures, their dreams and have ripped apart 13 families. You cannot even man up and admit that."
Schmitz went on to call for investigations into Biden, Secretary of Defense Lloyd Austin and Secretary of State Antony Blinken. He said that the investigations are much needed because of "their involvement in intentionally leaving Bagram [Air Base] and all of its assets by knowingly aiding known terrorists, all while abandoning U.S. civilians and allied partners."
He also said that Biden has "more American blood" on his hands than another other president before him.
"In closing, Mr. Biden, Secretary Austin, Secretary Blinken, if trusting and supporting our military is too difficult for you, then I suggest you pack your s— and enjoy your retirement," he said. "Because from where I sit on my perch, the noose around your doubled-down notion that this was an extraordinary success looks like it's tightening a little bit more each and every day."
Before the hearing began on Tuesday, Chairman of the Joint Chiefs of Staff, General Mark Milley, who had also received criticism for his role in the withdrawal, released a statement to Fox News saying that the U.S. owes the Gold Star families "everything."
He also addressed the accusations made by the Gold Star families against the Biden administration that they had been lied to, and had certain information kept from them.
"We owe them transparency, we owe them honesty, we owe them accountability. We owe them the truth about what happened to their loved ones," Milley said in his statement. "I trust the Army, Navy and Marine Corps did the best they could in briefing the families who had loved ones killed at Abbey Gate. I believe the briefers gave every piece of information that they could. If there was issues with that, we need to take whatever corrective action is necessary. And our hearts go out to those families. This is a personal thing for all of us in uniform. We don't like what happened in Afghanistan. We don't like the outcome of Afghanistan. We owe it to the families to take care of them. Their sacrifices were not in vain."
The House Foreign Affairs Committee has launched an investigation into the deadly suicide bombing outside of Kabul airport which had killed the 13 service members, and at least 170 Afghani civilians.
The 13 service who had lost their lives were Sgt. Johanny Rosario Pichardo, 25, of Lawrence, Massachusetts, assigned to 5th Marine Expeditionary Brigade, Naval Support Activity Bahrain.
Sgt. Nicole L. Gee, 23, of Sacramento, California, assigned to Combat Logistics Battalion 24, 24th Marine Expeditionary Unit, II Marine Expeditionary Force, Camp Lejeune, North Carolina.
Staff Sgt. Darin T. Hoover, 31, of Salt Lake City, Utah. His military occupational specialty was 0369, infantry unit leader.
Cpl. Hunter Lopez, 22, of Indio, California, a rifleman.
Cpl. Daegan W. Page, 23, of Omaha, Nebraska, a rifleman.
Cpl. Humberto A. Sanchez, 22, of Logansport, Indiana, a rifleman.
Lance Cpl. David L. Espinoza, 20, of Rio Bravo, Texas, a rifleman.
Lance Cpl. Jared M. Schmitz, 20, of St. Charles, Missouri, a rifleman.
Lance Cpl. Rylee J. McCollum, 20, of Jackson, Wyoming, a rifleman.
Lance Cpl. Dylan R. Merola, 20, of Rancho Cucamonga, California, a rifleman.
Lance Cpl. Kareem M. Nikoui, 20, of Norco, California.
Navy Corpsman Maxton W. Soviak, 22, of Berlin Heights, Ohio, assigned to 1st Marine Regiment, 1st Marine Division, Camp Pendleton, California.
Staff Sgt. Ryan C. Knauss, 23, of Corryton, Tennessee. Knauss was assigned to 9th PSYOP Battalion, 8th PSYOP Group, Ft. Bragg, North Carolina.
Stay informed! Receive breaking news blasts directly to your inbox for free. Subscribe here. https://www.oann.com/alerts