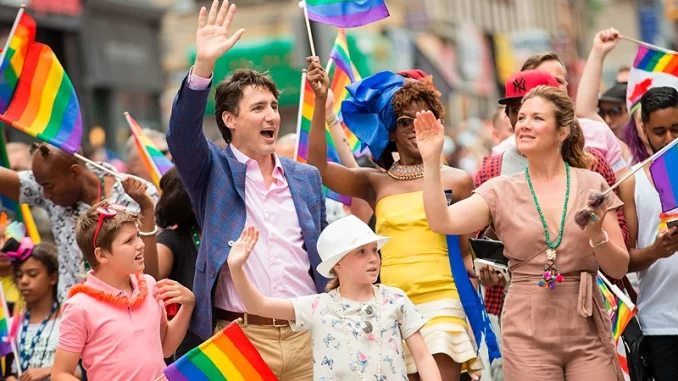 OAN's Brooke Mallory
11:29 AM – Wednesday, August 30, 2023
Canada's government is advising Canadian visitors traveling to the U.S. that a number of newly approved state bills that "target LGBTQ persons" might result in discrimination and even harassment.
Advertisement
In a Wednesday update, Canada advised the country's citizens who identify as LGBTQ to "check relevant state and local laws" before traveling to the U.S., warning that "some states have enacted laws and policies that may affect 2SLGBTQI+ persons."
However, the latest travel notice makes no mention of what particular states LGBTQ visitors should stay away from.
Travelers were also urged to "take similar precautions to those you would take in Canada" when visiting the U.S.
The St. Petersburg-based LGBTQ rights organization "Equality Florida" also released its own travel warning in April, cautioning both domestic and foreign visitors visiting Florida that the state "may not be a safe place to visit or take up residence" due to recent legislation that "targets LGBTQ people, limits access to reproductive healthcare, and loosens firearms regulations."
Additionally, the Human Rights Campaign, which is the largest LGBTQ civil rights organization in the country, declared a "national state of emergency" in June for LGBTQ people in the U.S., citing the passing of laws in states across the nation that discriminate against LGBTQ people, especially "transgender youth," the group posted.
At a press conference on Tuesday, Canada's deputy prime minister, Chrystia Freeland, assured reporters that the country's new travel warning is not driven by politics and is intended to keep Canadians as secure as possible when traveling overseas.
"As someone who has had the real privilege of serving as Canada's foreign minister, I know that our travel advisories are done very professionally," Freeland said. "We have professionals in the government whose job is to look carefully around the world and to monitor whether there are particular dangers to particular groups of Canadians," she added.
"That's their job and it's the right thing to do."
Stay informed! Receive breaking news blasts directly to your inbox for free. Subscribe here. https://www.oann.com/alerts