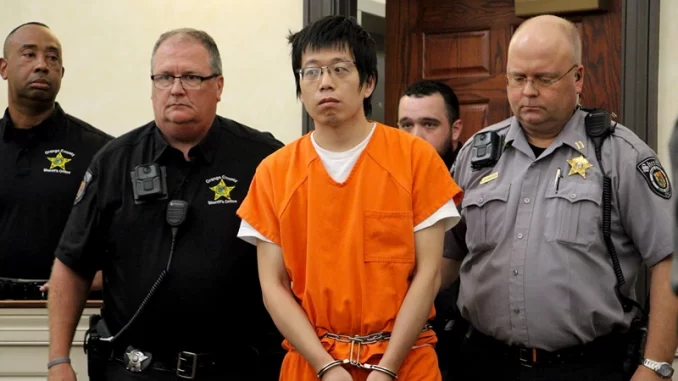 OAN's Abril Elfi
12:39 PM – Tuesday, August 29, 2023
University of North Carolina (UNC) graduate student Tailei Qi has made his first court appearance after being arrested regarding a campus shooting that resulted in the death of a faculty member.
Advertisement
The alleged suspect in the murder of UNC Associate Professor Zijie Yan, made his initial appearance on Tuesday in Hillsborough at the Orange County Courthouse. He has reportedly been charged with first-degree murder and having a weapon on educational property. 
The 34-year-old suspect was arrested around 2:30 p.m. on Monday after allegedly fatally shooting the physical science professor in Caudill Laboratories around 1 p.m.  
The campus was under lockdown for almost one and a half hours after receiving a 9-1-1 call of open fire. It stayed lockdown until Qin was arrested.
The case was presided over by District Court Judge Sherri Murrell. 
Murrell read the allegations filed against Qi during his arraignment. The murder charge filed against Qi carries a possible penalty of death and a minimum penalty of life in prison without the possibility of parole. 
The gun charge was classified as a misdemeanor on the arrest warrant, but was upgraded to a felony. The felony charge carries a potential sentence of 24 months in prison.
After the arraignment, District Attorney Jeff Nieman told reporters that his office will not seek the death sentence.
Qi is reportedly an international student from China who is in the United States studying on a Visa and was provided an interpreter during the hearing.
According to authorities, the potential motive of the fatal shooting is still under investigation. 
Qi is currently being held without bond in the Orange County Detention Center until his next hearing set for September 18th. 
Stay informed! Receive breaking news blasts directly to your inbox for free. Subscribe here. https://www.oann.com/alerts