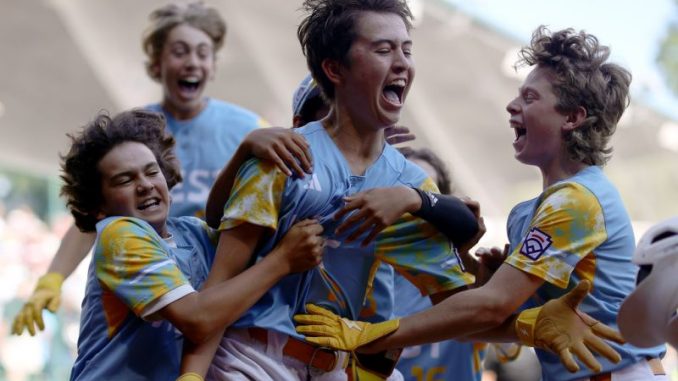 OAN's James Meyers
2:49 PM – Monday, August 28, 2023
Little Leaguer's everywhere dream of the kind of moment that transpired in the Little League World Series (LLWS) championship this weekend. 
Advertisement
Infielder Louis Lappe hit a walk-off homer in the bottom of the sixth inning, helping California beat Curacao in a 6-5 championship game on Sunday, after giving up a four-run lead. 
After Lappe cranked the second pitch, he saw just beyond the left field fence and flipped his bat, throwing his arms in the air as he celebrated running around the bases. After Lappe leaped onto home plate he was swarmed by his teammates and could barely contain his excitement. 
"This is a unique feeling that maybe only five or less people experience in their lifetime," said Louis, who finished the tournament with five homers, the most of any player. "I feel great. It's hard to beat this feeling. I don't know what would make me feel happier."
The game winner by Lappe came after Curacao tied the game in the fifth inning. Curacao's left-fielder, Nasir El-Ossais, had hit a grand slam to center field, causing a frenzy from supporters of the team. 
California's Jaxon Kalish and Lucas Keldorf also drove in two runs each for the West Coast team in the game.
"The five guys that I have in the top of the lineup, they're as good as anyone in this tournament," El Segundo manager Danny Boehle said. "I stand by that full heartedly."
Both California and Curacao had lost early in the tournament, causing them to fight their way through the elimination bracket. Each side had to turn to less experienced players on their teams due to the pitch count rules in the tournament. 
"If a player pitches 51-65 pitches in a day, three (3) calendar days of rest must be observed. If a player pitches 36-50 pitches in a day, two (2) calendar days of rest must be observed. If a player pitches 21-35 pitches in a day, one (1) calendar day of rest must be observed," according to LittleLeague.org.
Despite giving up a 5-1 lead, California was able to come back and out on top, taking home the championship title. 
"What we did may never happen again in the history of El Segundo," Boehle said. 
Stay informed! Receive breaking news blasts directly to your inbox for free. Subscribe here. https://www.oann.com/alerts