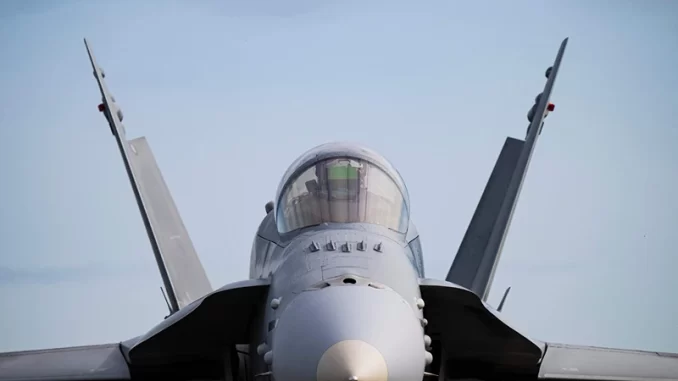 OAN's Abril Elfi
12:39 PM – Friday, August 25, 2023
A United States Marine Corps pilot has died after his jet crashed in San Diego.
Advertisement
On Thursday night, the pilot of a F/A-18 Hornet fighter jet reportedly crashed near the Marine Corps Air Station Miramar, ejecting him from the plane causing his death. 
The crash happened right before midnight, when the military jet went down in a remote area of the base. 
The air base released a statement in the aftermath of the tragedy. 
"We are aware of an accident involving an F/A-18 Hornet in the vicinity of MCAS Miramar at 11:54 P.M. PST," the air base said in a statement. "This aircraft is not part of 3rd Marine Aircraft Wing but was operating out of MCAS Miramar."
Additionally, the statement said that the collision occurred on government property east of the air station, and there are no signs of property damage on the ground. 
Once the body of the victim was recovered, the Miramar Marine Corps released another statement regarding the news of the passing. 
"Search and rescue recovered the U.S. Marine Corps pilot who has been confirmed deceased at the site," the statement read. "With a heavy heart, our condolences go to the Marine's family during this time."
The identity of the pilot has not yet been made public as authorities are still informing family members of the tragedy.
Reportedly, the pilot was the only person in the plane and the cause of the crash is still under investigation.
Stay informed! Receive breaking news blasts directly to your inbox for free. Subscribe here. https://www.oann.com/alerts