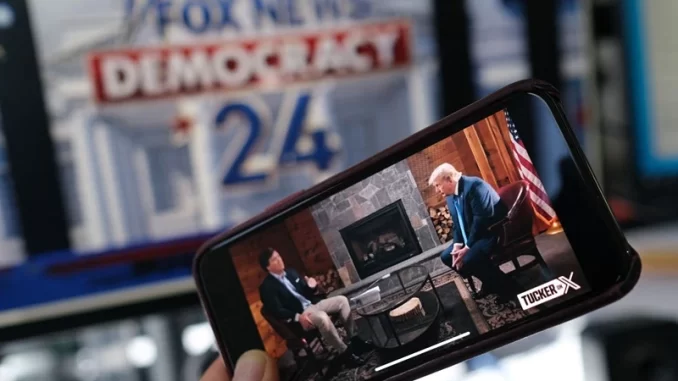 OAN's Daniel Baldwin
6:21 AM – Thursday, August 24, 2023
Skipping the first Republican presidential primary debate of 2024, former President Donald Trump took aim at President Joe Biden's recent trips to Rehoboth Beach, Delaware in an exclusive sitdown with former Fox News Host Tucker Carlson.
Advertisement
"I think Biden looks horrible at the beach," Trump told Carlson. "Plus the beach doesn't represent what a president's supposed to be doing. You're supposed to be working."
Biden has spent about 40% of his time in office on vacation. Trump's criticism came after Carlson asked the 45th president if he thought Biden would ultimately be his opponent in the 2024 election should he win the Republican presidential nomination.
"I think [Biden's] worse mentally than he is physically," Trump said. "And physically, he's not exactly a triathlete or any kind of an athlete."
Trump highlighted that Biden appears to struggle doing routine physical acts such as walking and lifting light objects.
"He can't walk to [Marine Force One]," Trump told Carlson. "He can't lift his feet out of the grass. You know, it's only two inches at the White House. That's not a lot. But you watch him, and it looks like he's walking on toothpicks."
"And then you see him at the beach where he can't lift a chair," Trump continued. "You know those chairs are meant to be light, right? They're like two ounces."
Biden is currently on vacation in Lake Tahoe, Nevada. Trump slammed Biden for not devoting enough energy to ending the devastating war in Ukraine.
"[Biden's] supposed to be getting us out of that horrible, horrible war that we're very much involved in with Russia and Ukraine," Trump said.
Stay informed! Receive breaking news blasts directly to your inbox for free. Subscribe here. https://www.oann.com/alerts