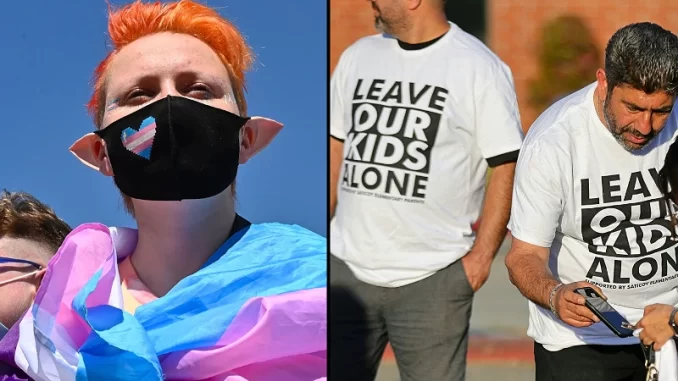 OAN's Brooke Mallory
6:37 PM – Tuesday, August 22, 2023
On Tuesday, over 200 individuals marched through downtown Los Angeles in favor of parental rights and school notification procedures, while an opposing group assembled nearby to demonstrate in support of LGBTQ+ students, resulting in an illegal assembly declaration and at least two arrests.
Advertisement
The parental-rights march was organized through a social media movement called "Leave Our Kids Alone," which supports parental rights while opposing "indoctrination," "sexualization," and the sexual "grooming" of children in schools.
The organization supports the rules enacted by various Inland Empire school districts that require schools to tell parents and guardians if their children identify as transgender or attempt to identify as a gender different than the one specified on their birth certificate.
The Leave Our Kids Alone movement gathered outside Los Angeles City Hall before marching to the Los Angeles Unified School District offices at Third Street and Beaudry Avenue.
However, some protesters squatted in the intersection, which prompted authorities to proclaim an unlawful assembly.
Meanwhile, members of a smaller counter-protest were waving pride flags and gathering nearby as well, forcing authorities to build up skirmish lines to keep the two groups apart.
According to on-the-scene accounts, police attempted to push the counter-protesters back, but two people reportedly resisted and were immediately arrested.
Opponents of parental notification regulations argue that such policies put LGBTQ+ kids at risk if their family does not accept their gender identification.
Organizers of Tuesday's counter-rally, which included Ground Game LA and Queer Nation Los Angeles, accused the parental-rights organization of "trying to bring their hate to Los Angeles City Hall," as well as promoting a "hate-filled, fascist agenda of fear."
Some members of the Leave Our Kids Alone movement waved American flags, while others held posters with messages like "Parental Rights Matter" and "Parental Rights Are Non-Negotiable," and many donned t-shirts that said "Leave Our Kids Alone."
State Attorney General Rob Bonta announced earlier this month that he was looking into whether the Chino Valley Unified School District "violated students' civil rights" by enacting a parental notification requirement earlier this year.
Bonta also slammed a similar vote taken earlier this month by the Murrieta Valley School Board in Riverside County, labeling the mandate "a forced outing policy."
Stay informed! Receive breaking news blasts directly to your inbox for free. Subscribe here. https://www.oann.com/alerts