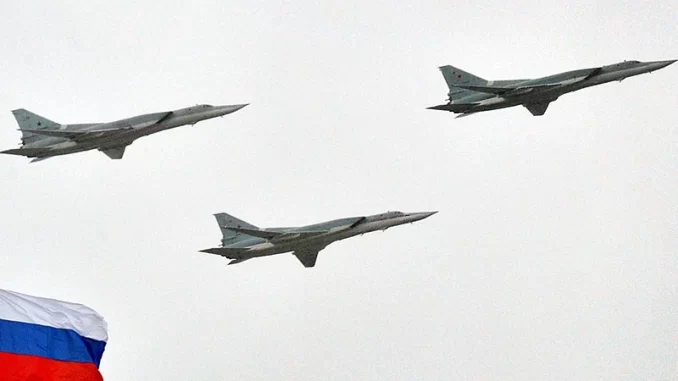 OAN's Roy Francis
10:04 AM – Tuesday, August 22, 2023
A prized Russian long-range bomber was destroyed in a Ukrainian drone strike on Saturday.
Advertisement
According to reports, the flagship Tupolev Tu-22M3, which was located at Soltsy-2 airbase, south of St. Petersburg, was the target of an attack by Ukrainian kamikaze drones. Moscow claimed that the drone was hit by small-arms fire and managed to only "damage" the airplane.
"The UAV was detected by the airfield's observation outpost and was hit with small-arms fire," the Russian Defence Ministry said in a statement. "One airplane was damaged; there were no casualties as a result of the terrorist act."
The ministry also said that a fire had broken out on the airstrip, but was quickly extinguished. No injuries were reported as a result of the attack.
However, the Ukrainian military said that the attack was a major one which had included two drones, one targeted the plane, and the second had targeted a train station which has been used to supply Russia's invasion.
New footage showed the bomber that had been targeted engulfed in flames on the airstrip, with Ukrainian sources claiming that another Tu-22M3 bomber had also been badly damaged.
The Tu-22M3 is a strategic supersonic bomber, capable of also carrying a nuclear payload. Russian media has also confirmed that at least six of the strategic bombers have been moved to the Olenya airbase, almost 1,000 miles away, after the attack.
The attack on the bombers was followed by an attack a day later on a major railway station. The attack on the station caused a fire and damage to the roof and front of the building.
The station is located on a line that is used to transport weapons, troops, ammunition and supplies to the Russian troops on the frontlines.
Five individuals were injured by glass fragments as a result of the attack on the train station according to regional governor Roman Starovoit.
The total damage caused by the attacks has not been acknowledged or released by Russian forces.
Moscow Mayor Sergey Sobyanin also confirmed an attempted attack on the capital by similar drones, however electronic warfare equipment had downed the drones before any damage could be done.
"At night an attempt was made to fly a drone to Moscow from a southerly direction," Sobyanin said. "'It was stopped by the air defence forces."
Stay informed! Receive breaking news blasts directly to your inbox for free. Subscribe here. https://www.oann.com/alerts