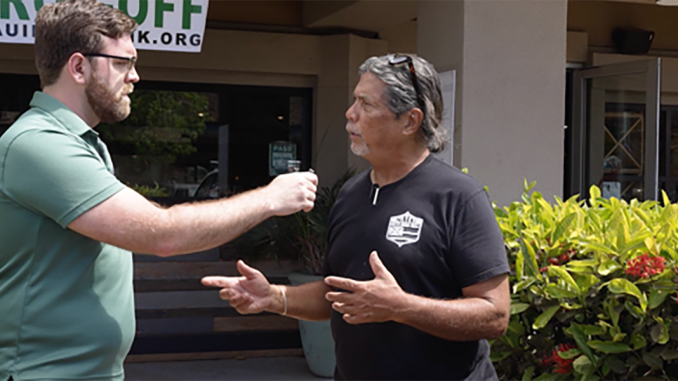 KIHEI, Hawaii—In the aftermath of the horrific fires that rapidly swept across western Maui, destroying the town of Lahaina and possibly killing over 1,000, fellow Hawaiians have spared no expense to come to the aid of the suffering and homeless.
The Daily Signal witnessed Maui businesses plastered with signs advertising drives of almost every kind imaginable—food, clothing, toys, gas, transportation, gift cards, building supplies, and other goods that are desperately needed by the devastated population of western Maui.
The official death toll rose Monday to 110, but officials sau=id they expect it to exceed 1,000 in the end.
Following the decline of Hawaii's sugarcane growing and refining industry, Maui and its sister islands have developed tourism economies with restaurants, rental shops, tourism groups, culture centers, and resorts.
After the fires leveled Lahaina, Hawaii Gov. Josh Green, a Democrat, and celebrities such as Hawaii-born actor Jason Momoa told "mainlanders" from the continental United States to stay away from Maui—saying that its citizens want privacy as Lahaina is rebuilt and Maui's residents grieve.
The Daily Signal asked hundreds of Maui islanders whether this was a true assessment: Do the people of Maui desire to be left alone?
Unlike narratives on social media, fueled by celebrities and politicians, almost every Maui islander interviewed by The Daily Signal seemed to fervently desire that tourists continue coming to Maui and support its tourism-driven economy.
Christopher Schobel owns Fat Daddy's Smokehouse, a barbecue restaurant in Kihei popularized in part by restaurateur Guy Fierri's hit TV show "Diners, Drive-Ins, and Dives." Schobel, also the chef at his eatery, told The Daily Signal that he is heartbroken by the number of social media posts by islanders saying that they are selling their cars to survive and plan to leave the island for lack of income. 
"Everyone here depends on the tourism industry—it's a fact. The guy who comes to fix my air conditioner depends on me feeding tourists," Schobel said.
Several business owners and employees likened the relatively deserted Hawaiian island to the aftermath of COVID-19 restrictions.
"We barely scraped by then—I don't know how we're going to come back from this," one local business owner, who asked to be anonymous, told The Daily Signal. "We need people to come and enjoy Maui in order to feed our families."
Have an opinion about this article? To sound off, please email letters@DailySignal.com and we'll consider publishing your edited remarks in our regular "We Hear You" feature. Remember to include the url or headline of the article plus your name and town and/or state.