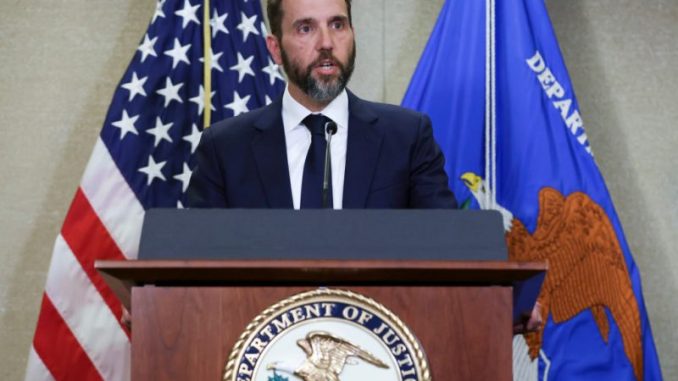 OAN's Daniel Baldwin
11:48 AM – Monday, August 21, 2023
Reports revealed that former White House chief of staff Mark Meadows told Special Counsel Jack Smith that he could not recall 45th President Donald Trump "ever ordering, or even discussing, declassifying broad sets of classified materials before leaving the White House." Former federal prosecutor Will Scharf says this will have no bearing on the actual trial.
Advertisement
"This is a case where information is being selectively leaked to make the president look bad," Scharf told One America News.
Trump faces criminal charges of unauthorized retention of national defense information, obstruction, among other things. Scharf says this is a very important distinction to make.
"It's really important to note that President Trump has not been charged with unlawfully retaining classified information," said Scharf. "He's been charged under the Espionage Act for unlawful retention of national defense information, which is a very different legal classification."
Under the Espionage Act, national defense information has to fit the definition of "relating to the national defense which information the possessor had reason to believe could be used to the injury of the United States or to the advantage of any foreign nation." 
"That information, in my view, doesn't bear on the burden of proof that Jack Smith has to meet," Scharf said. "And as I've said before, I believe that that burden is insurmountable for the special counsel and his team."
A Trump spokesperson told ABC News that this story was another example of Smith "selectively leaking incomplete information" to hurt the 45th president.
"This is a case that should be tried in a courtroom, not in the public domain, certainly not in the mainstream media the way it has been," Scharf said. "Jack Smith has, from the start of this process, attempted to shape the narrative, has attempted to play to the media. As a former federal prosecutor, that's not the way I was trained to prosecute cases. I was always taught that you do your talking in court, not in public. And I think that really shows you how politicized the Department of Justice has become under Joe Biden."
U.S. District Judge Aileen Cannon has set the trial date for May 20, 2024, but Scharf believes that will not last.
"I believe that the case will ultimately get pushed back," he said.
Scharf claims that these leaks from the DOJ have the potential to taint the jury pool.
"I believe that these media leaks have a real potential of corrupting the jury pool, of leading people to believe things about these cases that are not in evidence, that are not properly before the court," said Scharf. "And from a constitutional rights standpoint, that's deeply troubling and problematic. I believe that President Trump will have his day in court. I believe that he will be vindicated when he has that day in court."
Scharf says this, along with the other Trump indictments, are staining the American judicial system.
"The real question is what damage will be done between now and that day to our democratic institutions and to the rule of law," asked Scharf.
Stay informed! Receive breaking news blasts directly to your inbox for free. Subscribe here. https://www.oann.com/alerts