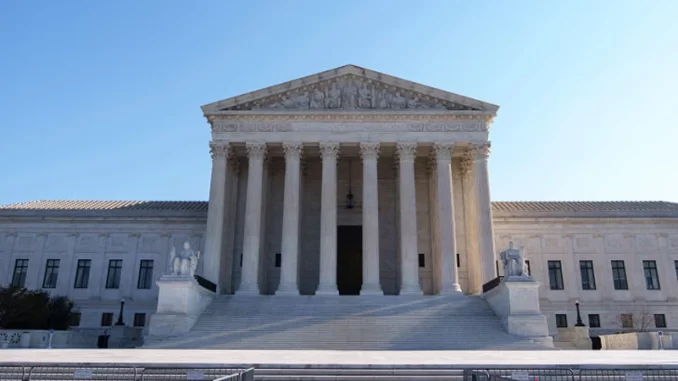 OAN Geraldyn Berry
UPDATED 3:36 PM – Friday, April 28, 2023
The Supreme Court of North Carolina has reversed a previous decision that found political gerrymandering to be unlawful, paving the way for state Republicans to redraw the state's congressional boundaries.
In a long ruling released by the court on Friday, Conservative judges came to the conclusion that they were unable to decide whether or not political gerrymandering charges had merit since it was the state legislature's responsibility to do so.
"Our constitution expressly assigns the redistricting authority to the General Assembly subject to explicit limitations in the text," the new opinion from the North Carolina court said. "Those limitations do not address partisan gerrymandering. It is not within the authority of this Court to amend the Constitution to create such limitations on a responsibility that is textually assigned to another branch. Furthermore, were this Court to create such a limitation, there is no judicially discoverable or manageable standard for adjudicating such claims."
The court's Republican justices voted to reverse the previous judgment, and the two Democrat justices dissented, leading to a 5-2 result. During last November's elections, the court changed hands, going from Democrat control of 4-3 to Republican control of 5-2.
Republicans would have the advantage to take up to four of the seven seats currently controlled by Democrats as soon as the 2024 elections, offering them a safety net while they cling to a slim House of Representatives majority.
The court overturned its own earlier decision invalidating a map endorsed by Republicans. A new majority on the court that is 5-2 in favor of the GOP was created when two seats on the bench switched from liberal to conservative justices.
Under a new map, Republicans could snag as many as 11 seats.
The North Carolina Republican Party celebrated the ruling.
"The People of North Carolina rejected the blatant activism of the progressive judges by electing a strong majority of conservative Justices," North Carolina GOP Chairman Michael Whatley said in a statement. These rulings are a big step toward restoring respect for the Constitution and taking politics out of the courtroom."
Stay informed! Receive breaking news blasts directly to your inbox for free. Subscribe here. https://www.oann.com/alerts