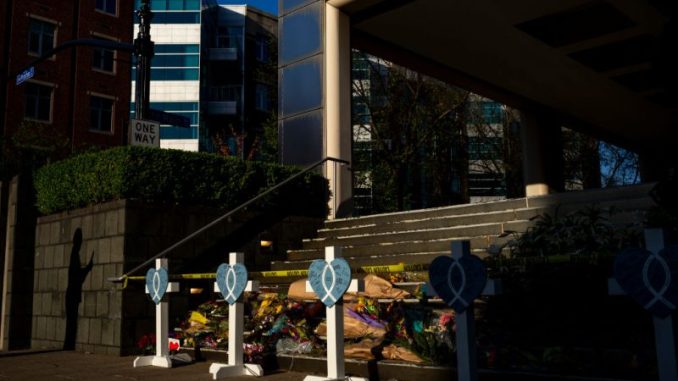 OAN Sophia Flores
UPDATED 5:42 PM – Friday, April 14, 2023
The family of 25-year-old Connor Sturgeon, who murdered five colleagues at a downtown Louisville bank branch on Monday, is set to have his brain tested for Chronic Traumatic Encephalopathy (CTE).  
CTE is a type of brain degeneration that is likely caused by recurrent concussions. The condition can cause anxiety and depression. It can also cause one to have violent mood swings. Sturgeon's family thinks he had three significant concussions in his lifetime. On Instagram, Sturgeon would often refer to himself as "Mr. Concussion."
LMPD Deputy Chief Paul Humphrey made the announcement.
"As far as the background of the shooter that's going to be a thorough investigation, both criminally and investigatively, into mental health issues, physical issues," Humphrey said on Friday. "So, we hope, at the end of this, we have an understanding and a profile of what caused this to happen so, hopefully, in the future, some community is able to benefit and not have this happen based on some of the information that we might find out."
Those who are diagnosed with CTE have reported symptoms as early as in their 20's.
Sturgeon opened fire on Monday morning. He shot eight people, killing five, before police took him down in a standoff in the bank's lobby. His victims were Tommy Elliott, 63, as well as Joshua Barrick, 40, Deana Eckert, 57, Jim Tutt, 64, and Juliana Farmer, 45.
The two officers who quickly and bravely responded to the scene were badly injured. Officer Nickolas Wilt had recently graduated his officer training. He was on the fourth ever shift as a police officer. Wilt was shot in the head and is now currently in critical condition. Officer Cory Galloway, who was grazed on his left side, fired the fatal shot that took Sturgeon down.