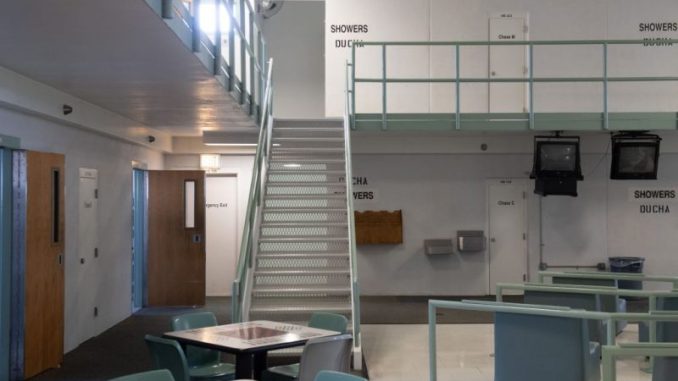 OAN Geraldyn Berry
UPDATED 9:41 AM – Tuesday, May 2, 2023
Two men who escaped from jail are being sought out by federal and state authorities in Virginia and North Carolina. Authorities have named Alder Marin-Sotelo, 26, and Bruce Carroll Callahan, 44, as dangerous fugitives.
"We are working with our state and federal partners, as well as local authorities in Virginia to ensure all resources are being used to bring the defendant back into custody," the Wake County Sheriff's Office (WCSO) said in a statement.
According to a news release from the Prince Edward County Sheriff's Office, the two inmates broke out of Piedmont Regional Jail in Farmville, Virginia, sometime over the weekend. Early on Monday morning, the sheriff's office received a report that the two men were gone.
In a Facebook post, the WCSO have said that they believe that Marin-Sotelo "left the jail in an early 2000s red or burgundy Ford Mustang."
Authorities claim that both individuals have contacts in North Carolina, which is 60 miles north of Farmville and 60 miles southwest of Richmond.
According to the FBI, Marin-Sotelo is accused of first-degree murder in North Carolina for the slaying of Wake County Sheriff's Deputy Ned Byrd in August. According to the Officer Down Memorial Page, a non-profit devoted to honoring dead police, Byrd was shot numerous times and murdered after stepping out of his car to look into "suspicious activity" while on patrol.
The Prince Edward County Sheriff's Office reported that Marin-Sotelo, whom the police characterized as Hispanic, had also been found guilty of illegally possessing a handgun. He is around 150 pounds and 5 feet, 6 inches tall. The sheriff's office also mentioned that he had brown eyes and black hair.
According to a news statement from the U.S. Marshals Service, Callahan was detained on federal narcotics and firearms allegations. He is White, stands 5 feet 6 inches tall, and weighs around 145 pounds. According to the statement, he has brown hair and green eyes.
The Marshal's Service stated that there is a reward of up to $5,000 for information that results in Callahan's arrest. According to the news release, the Marshal's Service is looking for Callahan and assisting in the FBI's search for Marin-Sotelo.
Sheriff L.A. "Tony" Epps of Prince Edward County advised the public to be on the lookout and contact 911 if they saw anyone who matched the descriptions of the escapees when he announced the hunt on Monday.
"We appreciate the support from our many law enforcement partners and the public, as we continue to search [for] these individuals," the sheriff said.
The Marshals later announced a $5,000 reward for any information leading to their capture.
Stay informed! Receive breaking news blasts directly to your inbox for free. Subscribe here. https://www.oann.com/alerts