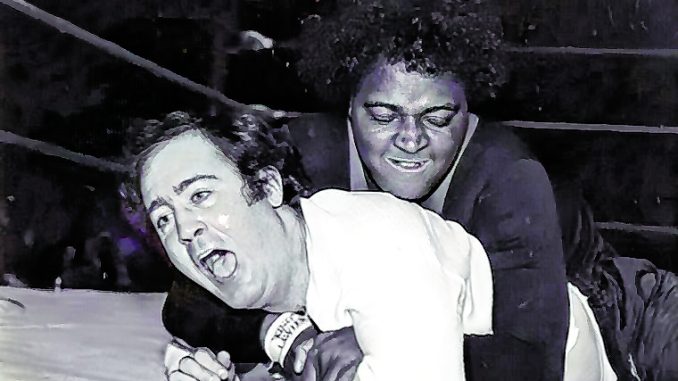 Famous comedian, actor, and wrestler Andy Kaufman was recently inducted into the WWE Hall of Fame. Kaufman is known for his performance art comedy which blurred the lines between reality and fiction. He was born in Great Neck on Jan. 17, 1949, and passed away from lung cancer in May of 1984 at the young age of 35.
Kaufman's comedy was groundbreaking, as people never knew what was real or fake when he appeared on shows like Saturday Night Live and Late Night with David Letterman.
Kaufman played Latka on Taxi, which starred famous actors Danny DeVito, Tony Danza, Judd Hirsch and Marilu Henner. Kaufman's iconic life and career was memorialized in the 1999 movie, Man On The Moon with Jim Carrey playing Andy Kaufman.
Kaufman's roots in Great Neck led him to come back to town and visit the Playhouse Theater and Squire Movie Theater. Tina Mosetis, a Great Neck native who worked at the theaters, recalled in an interview with the Great Neck Record how Kaufman visited before his passing.
Mosetis worked at the cashier booth on the street, allowing her to look at the people walking on the sidewalks. Kauffman walked into the theater, back out to the street, back in and out again. Mosetis recalls him looking around and being a bit frustrated. He finally approached her and asked for the lady manager, Mosetis' mother, Hope.
"He told me that he wanted to thank her for always being kind to him," said Mosetis. "It was very sweet. But I didn't realize the significance of it till six months later when he passed away. He sought my mom out to thank her for her kindness."
One of Kaufman's most extraordinary acts, which still confuses fans today, is his wrestling career, where he wrestled women and had a public feud with Jerry Lawler, a star of the Memphis wrestling territory. Kaufman's performance art comedy led him to take on characters and personas where he would rarely break character. In an interview with Letterman and Lawler, Kaufman stated that in his wrestling career, he was playing the role of a "bad guy wrestler." Kaufman's "bad guy wrestler" role started when he began calling on women to challenge him in the ring.
On Late Night with David Letterman in February of 1982, Kaufman explained how his wrestling career came to be. He said, "What started out as a joke a few years ago as part of my concert act, now has become such a serious thing. I offer $1,000 to any woman who can beat me in a wrestling match. I'm getting challenges from all over the country. So, I've started wrestling in professional arenas, like Madison Square Garden on professional wrestling shows with professional wrestlers."
Kaufman's career wrestling women and playing the "bad guy wrestler" role got many people angry. He would taunt women to get them to challenge him and make videos about how he was an undefeated wrestler. Kaufman didn't care if people got mad or disliked him for his wrestling; he enjoyed manipulating the fans' emotions and playing the "bad guy" role.
In a VICE YouTube video, wrestling historian and personality Jim Cornette takes fans through the feud between Kaufman and 'The King,' Lawler. Cornette explains that Lawler invited Kaufman to his wrestling territory in Memphis at the Mid-South Coliseum to put on a few matches with women. Kaufman wrestled three women in the Memphis match. The first two he pinned, but the third woman, Foxy, lasted longer in the ring with Kaufman than any other woman he wrestled.
While Foxy put up a good fight, Kaufman prevailed and won the match. It was then that Lawler got in the ring and grabbed Kaufman to pull him back. Kaufman embellishes the move, and flies across the ring. According to Cornette, the crowd went wild, leading Lawler to plan a single match between him and Kaufman, thus starting the infamous feud.
Kaufman would send videos into Lawler to taunt him, make fun of wrestling and Tennessee just to get a rise out of Lawler and the fans.
The match between professional wrestler Lawler and TV star comedian Kaufman took place at the Mid-South Coliseum on April 5, 1982. Cornette was a photographer for the match, and he recounts Kaufman running around the ring, even jumping out of the ring to avoid Lawler. Lawler convinced Kaufman to get back in the ring and pulled a dangerous move, the pile driver. Cornette shares that since the pile driver was banned from wrestling, the match was called and Kaufman won by disqualification. Although the match was over, the crowd was going wild, leading Lawler to pick Kaufman up and do the pile driver again.
Kaufman asked for an ambulance to be called and he was taken out of the ring on a stretcher. After that match, Kaufman wore a neck brace for months and played victim.
Months after the match, Lawler and Kaufman appeared together on Late Night with David Letterman. Kaufman still wore the neck brace. The interview was heated, with Kaufman demanding an apology from Lawler and Lawler saying that Kaufman didn't deserve one.
Tension between the two became so high that Lawler stood up and slapped Kaufman so hard he flew out of his chair. When the show came back from commercial, Kaufman was pacing on stage, screaming and threatening to sue Lawler.
The two kept up their feud for years. Some fans are still unsure if the tension was real or not. Since Kaufman's death, Lawler has stated in multiple interviews that their feud was an act and that Kaufman respected wrestling and found the whole feud fun.
At the end of March, Kaufman was inducted into the WWE Hall of Fame. Along with Kaufman, the Inductee Class of 2023 includes Rey Mysterio, The Great Muta, Stacy Keibler and Tim White. Lawler and Jimmy Hart, another professional wrestler Kaufman went up against, inducted Kaufman into the Hall of Fame. Lawler made a tribute video that was played at the induction. Lawler said, "One of the most memorable moments of my career certainly involved Andy Kaufman."
In an exclusive interview with WWE, Andy's sister Carol Kaufman-Kerman spoke about Andy and how honored he would've been to be inducted into the WWE Hall of Fame. She said, "Andy held on strong to his childhood dream. He loved wrestling, he loved watching it. He appreciated a real wrestling audience. I'm really thankful and touched that he's been honored and memorialized in this way."