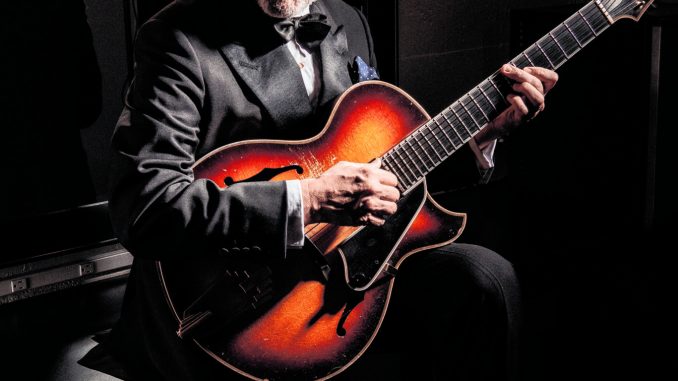 Along with being a world-renowned jazz guitarist, John Pizzarelli is an artist quick to pay tribute to his influences via his recorded work. Among the inspirational nods he's given are to the Chairman of the Board (2006's Dear Mr. Sinatra, 2017's Sinatra & Jobim @ 50), the Fab Four (1998's Meet the Beatles, 2015's Midnight McCartney), Duke Ellington (2010's Rockin' in Rhythm: A Tribute to Duke Ellington) and most notably, Nat King Cole (1994's Dear Mr. Cole, 2019's For Centennial Reasons: 100 Year Salute to Nat King Cole). For his new effort, Stage & Screen, Pizzarelli turned to a collection of classic songs from Broadway and Hollywood. The idea to go down this path came out of a weekly live stream the guitarist had been doing shortly after the pandemic lockdown started.
Somewhere around June 2020, the music union in New York, the Local 802, was sponsoring hour-long lunchtime concerts for all of the first responders and hospital workers," he recalled. I wasn't even on Facebook. I hadn't been on for a bunch of years and they said I had to go to my official page, click on a button and everyone would know and it would happen. I got all my passwords back and did this hour-long thing. That was something and then I decided to try and do that [on a regular basis]. Thursdays are good because it gives us Fridays off—not like I had anything to do on Friday anyway. We decided Thursday nights would be fun and my wife suggested we call [the show] 'It's Five O'Clock Somewhere' and it just blossomed into something that was another thing that saved our lives during the pandemic—the response of the people. Eventually it went to all requests."
Joined by bassist Mike Karn and pianist Isaiah J. Thompson, Pizzarelli leads his new trio through a gamut of ear worms ranging from "I Want to Be Happy" and "Tea For Two" from the 1925 musical No, No Nanette to "I Love Betsy" from Honeymoon in Vegas, a stage musical adapted from the 1992 film of the same name. It all wound up being a breezy three-day session cut back in November 2021 that had Pizzarelli pleased with the end result.
"When we started to go back to work, we were just picking things out of the air," he explained. 'I Want to Be Happy' was just a tune that we decided to play. I've always liked that tune—it's a great little jazz song. And then I heard Blossom Dearie sing 'Tea for Two' and she sang it as a ballad. I decided to do it that way and the more we did it, the more comfortable we got with it. And then we had a number of tunes that came out of the Thursday night set. The idea was that I had all these songs and when I looked at them, some of them were from movies and some I had in my back pocket like 'Coffee in a Cardboard Cup.' Stage and Screen just seemed like a nice idea for lack of a better title. We put everything together and thought it would work, so that's what happened."
Given the theme of the Garden State native's latest outing, it only seemed fair to have him list a few of his favorite scores from the silver screen and stage.
Casablanca (1942)
"I've always loved it because it's a perfect movie. But also because the music is so well-done. There's also something unusual. The band will play 'Avalon' at one place and all of a sudden we see Ingrid Bergman and all of a sudden the song is 'The Very Thought of You.' There is a way that they use the underscoring to signal what is going on. That's a really cool part of the movie and I think the movie is special for many reasons."
The Best Years of Our Lives (1946)
"This is a great movie. Hugo Friedhofer did the score. I actually own the record of the movie. It's well-done from a cinematic point of view because of what it is about—veterans returning from World War II. I have a soft spot in my heart for Teresa Wright, who is also Mrs. Lou Gehrig in another movie."
The Bridges of Madison County [musical] (2014)
"One of the greatest things I heard was Steven Pasquale and Kelli O'Hara sing the score of The Bridges of Madison County, the Jason Robert Brown show. It absolutely stunned me. That's why I did one of Jason's tunes. I love his work and wanted something that was current."
The John Pizzarelli Trio will be appearing from April 25-29 at Birdland, 315 W. 44th St., NYC. Visit www.birdlandjazz.com or call 212-581-3080 for more information. Visit www.longislandweekly.com to read a full feature on John Pizzarelli.