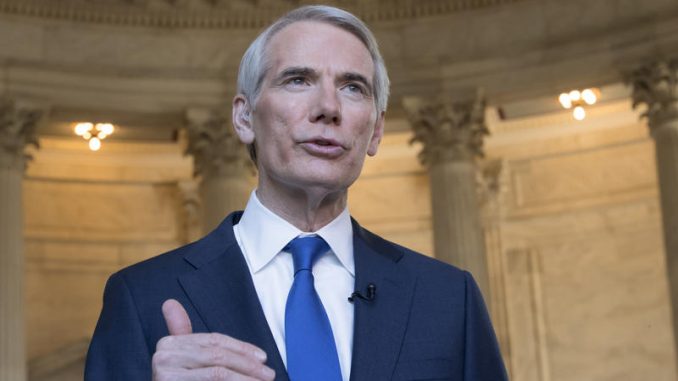 OAN Newsroom
UPDATED 5:37 AM PT – Monday, July 19, 2021
Republican senators are gearing up for a fight with Democrats over two large spending bills. In an interview Sunday, Sen. Rob Portman (R-Ohio) gave an update on negotiations for bipartisan infrastructure legislation. The Ohio lawmaker revealed at this stage reform of IRS enforcement will not be part of a deal.
"We found out that the Democrats were going to put a proposal into the reconciliation package, which was not just similar to the one we had, but with a lot more IRS enforcement," he stated. "So that created quite a problem because the general agreement is that this is the bipartisan negotiated infrastructure package and that we will stick with that. And President Biden, to his credit, said that we would not be renegotiating these items in the reconciliation package."
It was also revealed that IRS enforcement will likely be part of the Democrats larger reconciliation bill. Portman firmly pointed out that lawmakers agreed to a bipartisan bill and Biden has already indicated these items wouldn't be renegotiated in the reconciliation package.
"That's the two tracks here: we have the infrastructure bill separately from the $3.5 trillion reconciliation bill that is a strictly partisan exercise," continued the Republican senator. "More typical of Washington, frankly. Ours is the one that's unusual."
Portman said more meetings are to come to figure out how the bill will ultimately be funded.
The bipartisan infrastructure agreement responsibly upgrades & modernizes ports, freight rails, bridges & other key infrastructure.

These are the improvements we need to strengthen our economy & make it more efficient & more productive for decades to come.https://t.co/gmumiJnxrx

— Rob Portman (@senrobportman) July 17, 2021
Meanwhile, Sen. Lindsey Graham (R-S.C.) is considering leaving Washington, D.C. to derail the passage of the Democrat reconciliation bill, mirroring a recent move by Texas Democrats. On Sunday, the South Carolina lawmaker said he may travel outside of D.C. to break the quorum the Democrats need to jam their spending package through the Senate. He added, all Republican senators should just walk out of the Senate session as well. His suggestion follows a decision by 58 Texas Democrats to flee their state in a failed attempt to derail passage of election integrity laws.
Graham said the Democrat spending bill would fund far-left partisan projects at the expense of U.S. national debt. He urged that it must be stopped while noting the reconciliation package is unrelated to infrastructure. The Republican added, some Democrat senators may not support the reconciliation package.
This comes as Senate Majority Leader Chuck Schumer (D-N.Y.) has proposed a Senate vote to proceed on the bipartisan infrastructure bill. The New York Democrat is pushing for a vote this coming Wednesday to get the bill passed before the August recess. Many Republicans supporting the bill are calling on Schumer to slow down as the bill hasn't been fully written yet.