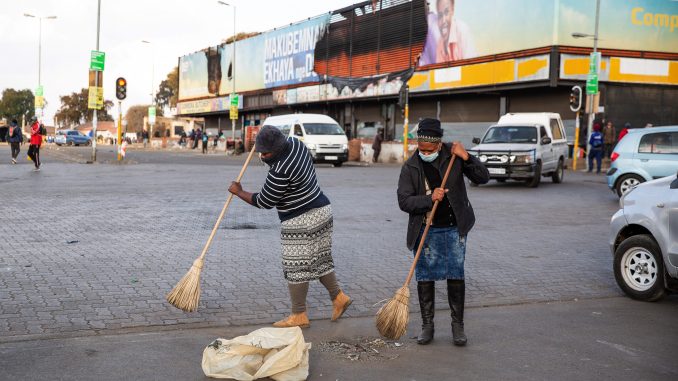 OAN Newsroom
UPDATED 1:55 PM PT – Saturday, July 17, 2021
The President of South Africa announced the country has regained stability after a week of bedlam. In a nationwide address on Friday, President Cyril Ramaphosa reported a drastic decline in incidents of rioting and looting that caused widespread turmoil after the imprisonment of former President Jacob Zuma.
Over 2,500 people have reportedly been arrested for inciting violence that resulted in over 212 deaths and property loss that has so far been incalculable.
"At least 212 people have lost their lives," he stated. "…The South African Police Service, led by Commissioner Sitole, here, is investigating 131 cases of murder and have opened inquest dockets in respect of 81 deaths."
"Those responsible for organising this campaign of violence and destruction have not yet been apprehended and their networks have not yet been dismantled. We must therefore remain vigilant." #ProtectSouthAfrica pic.twitter.com/F1Bxg0MTdP

— Presidency | South Africa ?? (@PresidencyZA) July 17, 2021
Ramaphosa said those investigations have been centered on 12 individuals who have been suspected of provoking a political insurrection. Although Ramaphosa declined to name those individuals or draw a connection to former President Zuma, he claimed the recent events were a "deliberate, coordinated" and well-planned attack to subvert democracy in South Africa.
"It's quite clear that all these incidents of unrest and looting were instigated," he explained. "…There were people who planned it. They coordinated it and our intelligence services and our police have now got a line of sight of what actually was happening here with the instigation."
At the heart of the insurrection attempt was the goal to sabotage the economy and the country's critical infrastructure. Rioters targeted the Port of Durban by blocking roadways connecting it with the economic capital of Johannesburg and halted operations of the country's largest oil refinery.
These obstructions to commerce threatened the supply of public essentials, while looters and arsonists destroyed public spheres. However, Ramaphosa reassured citizens there was no food shortage and no need to allow fear to perpetuate turmoil in the country.
"I want to emphasize that there is no shortage of food or supplies in most parts of the country," he stated. "There is therefore, no need to go on panic buying because doing so will only worsen the situation."
For a hopeful President Ramphosa, the attempts to undermine South Africa's democracy have ultimately failed and order will be restored.