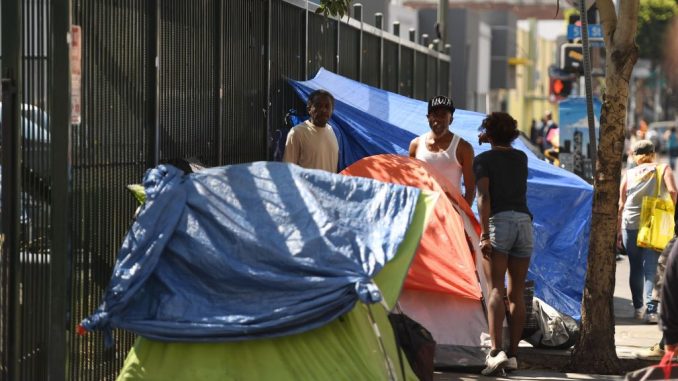 OAN Newsroom
UPDATED 1:22 PM PT – Saturday, July 17, 2021
Recent reports have attributed violence and random attacks on San Diego residents to a spike in the homeless population in the city. "We have an uptick in violent crime in general," said Mayor Todd Gloria. "And being homeless is not a crime, but being homeless is not a get out of jail free card either."
The people of San Diego have called on police and city officials to do more after multiple victims have come forward saying they have been assaulted. Aislinn Fava said she was walking to get a smoothie when out of nowhere a homeless man punched her in the back of the head knocking her to the ground.
Fava said multiple women have reached out to her after sharing her experience on social media. One woman commented, calling East Village a "war zone for women." The same week of Fava's attack another neighborhood captured surveillance of a homeless man striking a man from behind with a skateboard.
Since launching our concentrated effort in #Downtown to connect homeless residents to housing, shelter, and services, we've connected 293 individuals to shelter and had 708 walk-ups for services. Permanent housing is the goal, but these are important first steps. #ForAllofUs

— San Diego Mayor Todd Gloria (@MayorToddGloria) July 13, 2021
Mayor Gloria tried to blame the rise in homeless numbers on COVID-19 measures. "A lot of that has to do with the fact that during the pandemic we had to enforce social distancing rules in our homeless shelters. That meant that literally hundreds of our beds have not been able to be occupied," suggested Gloria.
In the last two weeks, Gloria said the city was able to shelter around 300 people now that social distancing rules have relaxed. In the latest budget proposal, the mayor said he has allocated $10 million for homeless sheltering with the hope it will begin to eliminate homelessness in San Diego.