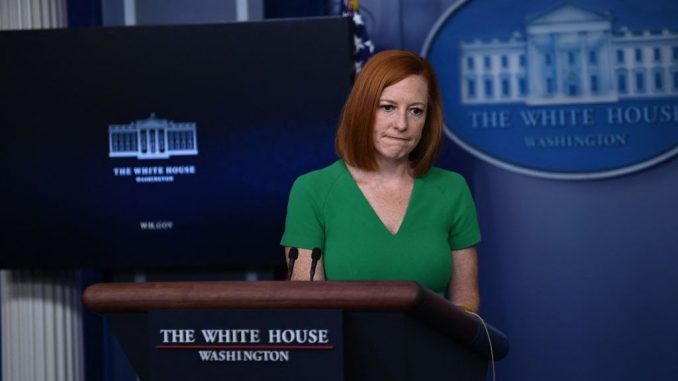 OAN Newsroom
UPDATED 7:30 AM PT – Saturday, July 17, 2021
White House Press Secretary Jen Psaki has responded to concerns over Joe Biden's aggressive action to censor social media posts. At a press briefing on Friday, Psaki outlined the steps the White House aims to take in connection with Facebook in order to enforce social media policies.
She said the federal government wants to know social media outlets are taking steps to address misinformation they deem dangerous to public health. She added Facebook has not been as proactive as the administration would like.
The Biden administration's push to censor social media content comes as President Trump has filed a class-action lawsuit against Big Tech giants Facebook, Twitter and Google for suppressing American's First Amendment right to free speech.
Remember when saying COVID came from a lab was misinformation?

Remember Hunter Biden's laptop?

Remember Russiagate?

The left calls everything they don't like misinformation—and now the White House is demanding Big Tech deplatform you.

This is what you see in Communist China.

— Steve Scalise (@SteveScalise) July 16, 2021
The White House said they're working with Facebook to take "aggressive action" on problematic social media posts. The administration said they will flag and work to censor anything they deem to be disinformation about COVID-19.
The Surgeon General, Dr. Vivek Murthy, announced his advisory on the dangers of health misinformation, which he called a public health threat. He called on tech companies to ramp up their efforts to monitor Americans and stop so-called misinformation "super-spreaders."
Social media companies are recommended by the administration to reduce the number of shares a post deemed false can get. During the briefing, Psaki asserted that Facebook should utilize their algorithm process to promote what they believe to be true.
Psaki claimed there are 12 people who provide 65 percent of vaccine misinformation online who are drowning out other voices. "There are also proposed changes we have made to social media platforms, including Facebook. And there are specifically four key steps," said Psaki. "One, that they measure and publicly share the impact of misinformation on their platform."
The Biden administration is now bragging about how they are working directly with Big Tech to censor posts they consider "misinformation." pic.twitter.com/QUPxDcAA0u

— MRCTV (@mrctv) July 16, 2021
The other steps include platforms enforcing rules, as well as removing posts. These censoring measures come on the heels of Biden's door-to-door campaign, which aims to increase vaccination rates in hesitant areas.
Of the many Republicans opposing the efforts, South Carolina Gov. Henry McMaster said "a South Carolinians decision to get vaccinated is a personal one for them to make and not the government's and pressuring people to get the vaccine is a bad policy." Similarly, Missouri's Gov. Mike Parson said he wants to do more to get his state vaccinated, but stressed going door-to-door would not work and isn't permitted in the state.
The Democratic National Committee, an ally to Biden, reportedly has plans to work with SMS carriers to monitor text messages and dispel misinformation regarding COVID-19 vaccines. Many critics called these plans an authoritarian form of spying that infringes on the First Amendment.