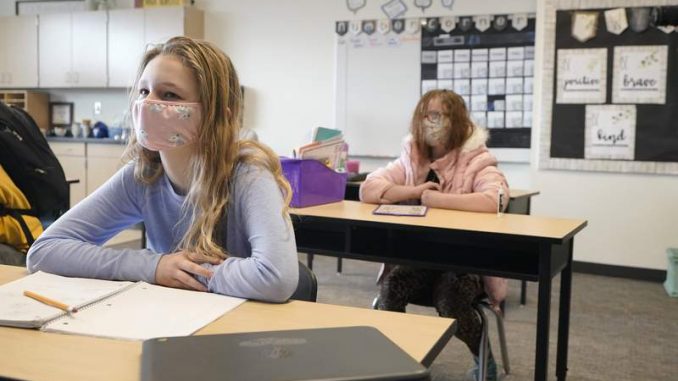 OAN Newsroom
UPDATED 8:00 PM PT – Friday, July 16, 2021
At least eight states have passed legislation blocking K-12 schools and college campuses from requiring proof of a COVID-19 vaccination. The GOP-led states include Alabama, Arizona, Arkansas, Florida, Montana, Oklahoma, Tennessee and Utah.
Of those states including Arizona, Arkansas and Oklahoma, mask mandates for schools have not been enforced. In addition, Utah Gov. Spencer Cox (R) passed legislation that would keep public schools from enforcing mask rules.
"I teach at a high school and I teach seniors, so my experience, I didn't have much difficulty in terms of students wearing masks," explained Renee Pinkney of Utah Education Association. "I think if it's a recommendation, that's always easier to manage rather than a mandate."
Support the representatives who stand up for our kids and hold the rest accountable! #maskchoice #UNMASKOURCHILDREN #unmaskourkids @ReopenCASchools https://t.co/SWfCvs0frd

— LET THEM BREATHE (@kidsunmasked) July 16, 2021
Meanwhile, states that continue to enforce masks in schools, including California, have faced backlash from parents and organizations. Sharon McKeeman, founder of Let Them Breathe, prepared for legal action against the Golden State if mask mandates were not removed from K-12 schools.
"We have parents that their families are not planning to be vaccinated and then we have other families that their kids got vaccinated just so they can take their masks off in school," she expressed. "So, we're a diverse group with a lot differing opinions, but we all come together on that underlying concern that our kids need to be able to unmask at this point."
However, reports earlier this week claimed California health authorities switched their stance on mask rules in schools after facing heavy criticism for outlining strict mask wear in classrooms across the state. A statement released on Tuesday said "mask enforcement will continue to be handled by local schools as the state recognizes the unique needs of each district and child."
As the school year draws near many parents continue to push for the roll back of mask requirements.
Parents Should Decide ? pic.twitter.com/A5x8uzg2Zt

— Supervisor Jim Desmond (@jim_desmond) July 14, 2021