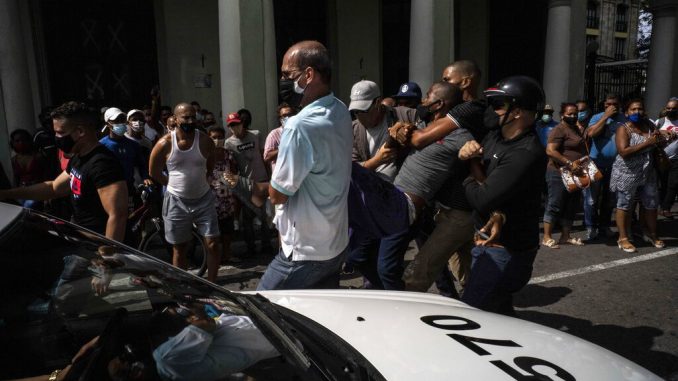 OAN Newsroom
UPDATED 6:11 AM PT – Thursday, July 15, 2021
An Associated Press reporter was severely beaten by communist authorities in Cuba while covering freedom protests.
AP photographer, Ramon Espinosa, is attacked by the police while covering a demonstration against Cuban President Miguel Diaz-Canel in Havana.

Thousands of Cubans took part in rare protests Sunday against the communist government

? Adalberto Roque pic.twitter.com/jw6bPlFTtQ

— AFP News Agency (@AFP) July 12, 2021
According to reports Tuesday, Cuban police officers assaulted AP photographer Ramon Espinosa who was left bleeding after the altercation on Sunday. He was taking pictures of anti-communist protesters in Havana.
The communist regime has tried to block internet access and restrict international media coverage of the protests. However, the truth is coming out and Republican officials across the U.S. are standing up to support the freedom loving Cuban people.
"The hour of freedom has arrived," stated Mayor Francis Suarez of Miami, Florida. "It's important that we recognize what is happening in Cuba right now at this very moment; a spontaneous uprising that has never happened in the last 60 years. That's happened in more than a dozen cities across Cuba."
The Cuban regime's military police are shooting at unarmed Cuban protestors fighting for freedom. 60 years of communism, cruelty, & oppression cannot last any longer! We are imploring the USA to take action as we peacefully demonstrate on the streets of Miami #PATRIAYVIDA ?? pic.twitter.com/QW2tYtOsbp

— Mayor Francis Suarez (@MiamiMayor) July 11, 2021
Democrats have failed to condemn the communist regime despite it conspiring with China to crack down on protesters. Instead, the left called for the lifting U.S. sanctions on the communist regime.