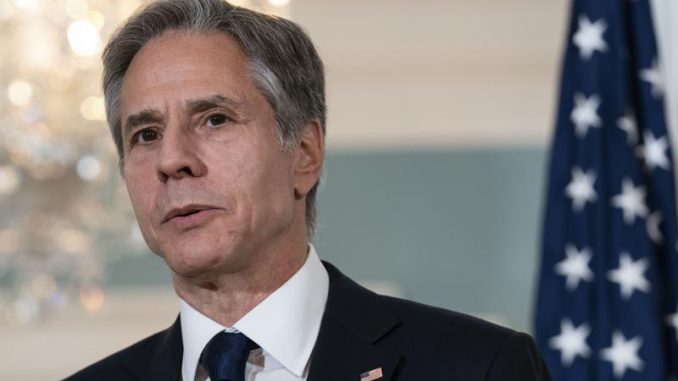 OAN Newsroom
UPDATED 7:41 PM PT – Monday, July 12, 2021
The State Department updated Congress on its efforts to combat global atrocities including genocide. On Monday, Secretary of State Antony Blinken announced the release of the 2021 Congressional Report mandated by the 2018 Elie Wiesel Genocide and Atrocities Prevention act.
In the report, Blinken named several problem countries, which included China, Myanmar and Syria.
"These places represent some of the toughest foreign policy challenges on our agenda and we'll keep working toward resolutions that reflect our commitment to human rights and democratic values," he stated. "We'll use all of the tools at our disposal including diplomacy, foreign assistance, investigations and fact-finding missions."
I am humbled to announce the submission of the third annual report to Congress pursuant to the Elie Wiesel Genocide and Atrocities Prevention Act of 2018. The United States reaffirms its commitment to preventing, mitigating, and responding to atrocities worldwide. #ElieWieselAct pic.twitter.com/vcKlNJFo1d

— Secretary Antony Blinken (@SecBlinken) July 12, 2021
The report indicated Myanmar has been on the State Department and Department of Defense's radar since 2016 and 2017, when military leaders reportedly committed atrocities against Rohingya residents in one of its northern states. Trump-era Secretary of State Rex Tillerson called the actions tantamount to "ethnic cleansing." According to State Department researchers, the leaders of the military actions against Rohingya have been responsible for the coup against democratically elected leaders in February of this year.
In addition, China has come under immense scrutiny from the international community for their treatment of Uyghur Muslims, who are a religious and ethnic minority group in the country. The State Department's assessment of the CCP's imprisonment, torture and enforced sterilization of Uyghurs constituted serious crimes against humanity and severe violations of religious liberty.
.@CSOAsstSec Robert Faucher delivers remarks on the Release of the 2021 Congressional Report Pursuant to the Elie Wiesel Genocide and Atrocities Prevention Act. Learn more in the full report here: https://t.co/2iXw2nuWWU. pic.twitter.com/3sDYDIETK1

— Department of State (@StateDept) July 12, 2021
Furthermore, The U.S. has been investigating atrocities committed in Syria from ISIS militants and the Assad regime. International reports suggested the two groups were responsible for the genocide of Kurds, Christians, Shia and Sunni Muslims.
"We believe it's important, as I think the secretary has said it several times, to shine, to put a spotlight on these activities," Assistant Secretary for Conflict and Stabilization Operations Robert Faucher explained. "That's one of the best ways from preventing them from happening again in the future."
Meanwhile, Blinken vowed to work with partner agencies and foreign governments to ensure global atrocities are stopped and prevented. He commended lawmakers and diplomats from both sides of the aisle for their bipartisan push to combat global atrocities.
Blinken went on to highlight this has led to the State and Treasury Departments across several administrations to sanction hundreds of individuals and companies with ties to genocide and other crimes against humanity.