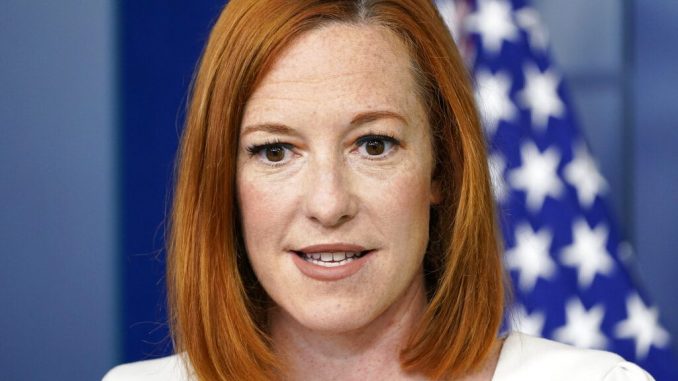 OAN Newsroom
UPDATED 11:30 AM PT – Tuesday, July 13, 2021
The Biden administration is ramping up opposition to the GOP's election integrity laws, which have been passed by several Republican states.
White House Press Secretary Jen Psaki recently labeled the GOP's efforts to uphold election integrity as voter suppression. During a press briefing Monday, she decried the laws meant to prevent election fraud as authoritarian and anti-American
"We need to work together with civil rights organizations to build as broad a turnout and voter education system to overcome the worst challenge to our democracy since the Civil War," she stated.
This comes as Texas, Florida and a few other states are moving to mandate voter IDs, restrict vote-by-mail and outlaw ballot harvesting. Psaki argued these measures, which are intended to protect the integrity of American elections, are forms of voter suppression.
"He will redouble his commitment to using every tool at his disposal to continue to fight to protect the fundamental right of Americans, to vote against the onslaught of voter suppression laws based on a dangerous and discredited conspiracy theory that culminated in an assault on our Capitol," stated the press secretary.
Texas has two weeks of early voting.

Jen Psaki's home state of Connecticut? It doesn't have early voting at all!

Care to comment on your state's threat to our democracy, @PressSec? https://t.co/X0odat6xh6

— House Judiciary GOP (@JudiciaryGOP) July 12, 2021
Meanwhile, Republican legislatures and governors nationwide have fought to reform election processes after an alarming number of GOP voters reported distrust in the 2020 presidential election. Additionally, probes into election fraud continue in Arizona, Georgia, Pennsylvania and other states.
Psaki also gave insight to Joe Biden's upcoming speech on voting rights in Pennsylvania. She confirmed Biden aims to galvanize Democrat support for the so-called For the People Act and the John Lewis Voting Rights Advancement Act, which conservatives have labeled as a direct attacks on free speech and federalism.