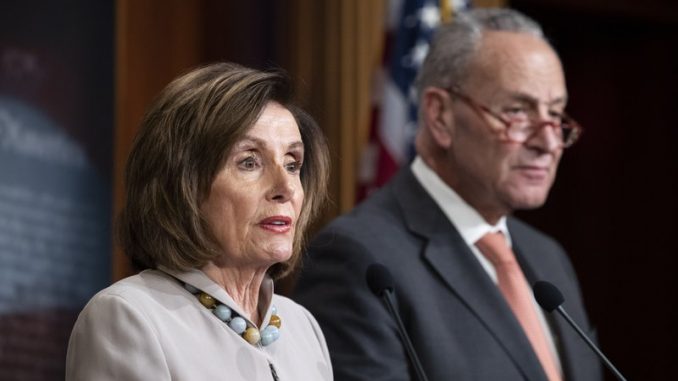 OAN Newsroom
UPDATED 1:17 PM PT – Tuesday, July 13, 2021
Democrat leaders in the House and the Senate returned to the Hill after a brief recess and immediately began to convince Americans to accept their definition of infrastructure. On Monday, Speaker of the House Nancy Pelosi (D-Calif.) claimed the current understanding of the term infrastructure was outdated.
The Oxford English Dictionary has defined infrastructure as "the basic physical and organizational structures and facilities (e.g. buildings, roads, power supplies) needed for the operation of a society or enterprise."
"What is in this bill is what we could agree to as infrastructure, but it frankly is an old view of infrastructure. It's what we might have done 35 years ago," Pelosi claimed. "Roads, bridges, mass transit to a certain extent and not as much as I would like."
If we're going to #BuildBackBetter, we have to Build Back Better with women. And we have an obligation to our children to have a greener infrastructure bill. We cannot move forward if we are stuck in the past. pic.twitter.com/JskAhADDHN

— Nancy Pelosi (@SpeakerPelosi) July 13, 2021
Senate Majority Leader Chuck Schumer (D-N.Y.) doubled down on Pelosi's proposal to change the English language to fit their political agenda by saying things like health care and education, both of which are represented by entirely separate cabinet positions within the federal government, should also be included in their bill.
"Human infrastructure, what many would call family support as our families come under increasing pressure in this modern society," he stated. "Things like child care, family leave, education, health care are just as essential to giving our citizens opportunity as building, roads and bridges and railways."
For decades, we have ignored the threat of climate change, a crumbling infrastructure, a disastrous child care system, a massive need for affordable housing, that we are the only major country not to guarantee paid medical leave.

Our budget must meet the needs of this moment.

— Bernie Sanders (@BernieSanders) July 12, 2021
In addition, the left's ultra-progressive representative Sen. Bernie Sanders (I-Vt.) went a step further by suggesting green technology, child care, education and health care were just the beginning to the Democrats massive budget plan.
"I introduced a proposal for $6 trillion, so I'm gonna fight to make that proposal as robust as it can be," he explained. "I think quite frankly a strong majority of the members of the Democratic Caucus want to go as big as we possibly can."
Meanwhile, Republicans are working to convince the more moderate voices within the Democrat Party to reject radical shifts in federal oversight and vote against the infrastructure bill and the budget proposal, the latter of which would be the largest federal spending plan since World War II.