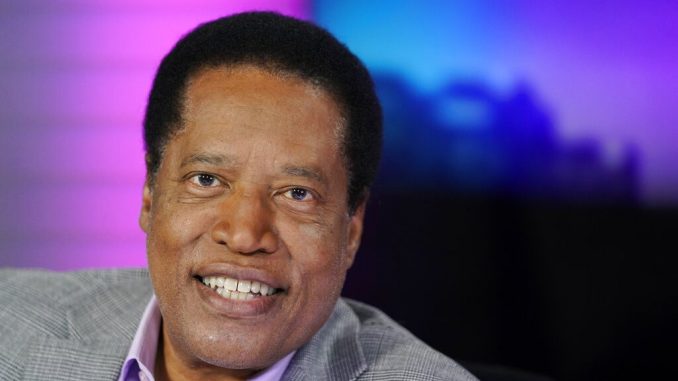 OAN Newsroom
UPDATED 8:00 AM PT – Tuesday, July 13, 2021
Prominent conservative radio talk show host Larry Elder has joined the fight to recall California Democrat Governor Gavin Newsom. On Monday, he announced his candidacy for governor while vowing his efforts to fix the rampant crime, homelessness and housing prices in the state.
Elder said he was asked to run for months, however, he made the official decision after Newsom repeatedly abused his power and "acted as a tyrant." This led Elder to change his mind and make the bid.
"The man goes to the French laundry…that expensive, pricey restaurant…one of the most expensive restaurants in the nation and sits there with the very people that drafted the coronavirus mandates," stated the radio host. "And preceded to violate them as they sat there. Not wearing masks, not engaging in social distancing."
Elder's bid puts him in the running with around 90 potential candidates, including former Olympian Caitlyn Jenner and former San Diego Mayor Kevin Faulconer. The conservative thought leader said maybe he can do something about the failing policies of California lawmakers.
"We have rising crime, ridiculous laws that allow a person to steal up to $950 a day without being a felon…without fearing going to jail," Elder continued. "We have an attack on the police causing the police to pull-back. We have incredible homelessness here in California…we're not dealing with the underlying problem."
Additionally, Elder said it's time to challenge Democrats in the Golden State who enjoy super majorities and believe they can do whatever they want.

On July 6, One America News conducted a Twitter poll surveying users on potential candidates for the next governor of California. Elder, Jenner, Faulconer and American businessman John Cox were all listed as options. After running for 72-hours and receiving feedback from over 10,000 respondents, Elder came out on top after securing 61.4 percent of the vote. Jenner came in second place with 25.3 percent of the vote.
Who would you be most likely to support for the next governor of California? #OANN #poll

— One America News (@OANN) July 6, 2021
Californians will be able to cast their votes for the next governor September 14.