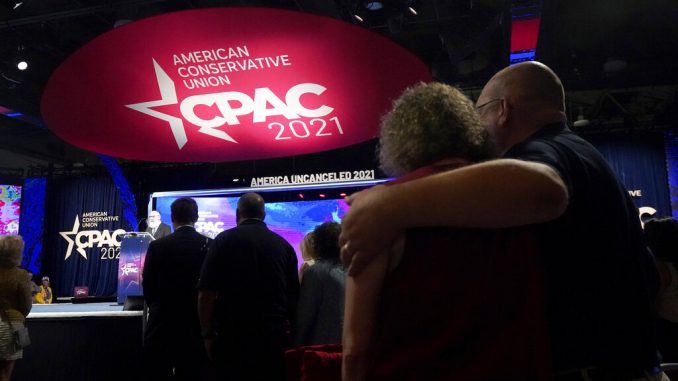 OAN Newsroom
UPDATED 8:2* AM PT – Monday, July 12, 2021
YouTube took another step to censor conservatives by prohibiting the American Conservative Union (ACU) from uploading new content. ACU chairman Matt Schlapp issued a statement notifying supporters of the social media giant's decision while asserting they were being punished for standing with the 45th president.
"It is clear that YouTube censored CPAC because we stood with former President Donald Trump on his lawsuit against Big Tech," said the chairman. "This is yet another example of Big Tech censoring content with which they disagree in order to promote the political positions they favor."
The video streaming site issued a strike against the ACU on July 9, in turn, preventing the organization from posting for one-week. The ban came just a day before CPAC was set to begin, meaning the event would not be available on YouTube.
"I think the biggest screw you to the cancel culturalists as the culmination of this CPAC in the big red state of Texas, Donald Trump to take the stage and tell the world that no matter what they do, they will not shut him down," Schlapp later told reporters.
We stood with President Trump on his lawsuit against Big Tech and they censored @A1Policy & @CPAC

BREAKING: YouTube censors CPAC's "America UnCanceled" episode featuring Donald Trump's major class action lawsuit against Big Tech https://t.co/F50796fNwL

— Matt Schlapp (@mschlapp) July 11, 2021
During the event, President Trump told the crowd he had taken Big Tech billionaires to court to push back against their censorship.
"We are taking Mark Zuckerberg, Jack Dorsey and the other Silicon Valley billionaires to federal court," he stated. "And we will keep on fighting until we have stopped this assault on our liberties and until we have restored the sacred right to freedom of speech for every single American. Who would have thought, who would have thought?"
As of Sunday night, the last video on the ACU YouTube page was uploaded Friday. None of the speeches from Saturday or Sunday have been added to the page.