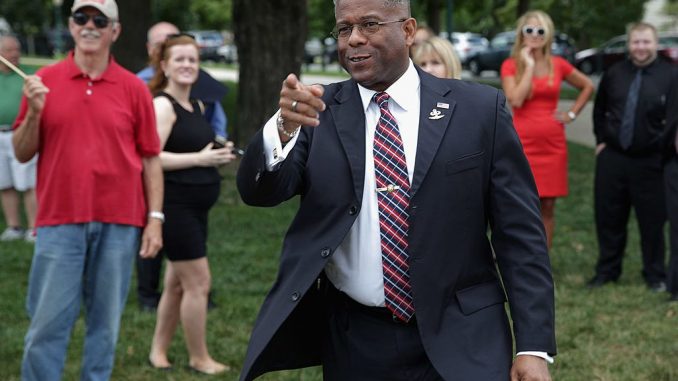 OAN Newsroom
UPDATED 7:56 PM PT – Sunday, July 11, 2021
A long list of pro-Trump Republicans have begun launching gubernatorial campaigns across the country. Texas, Massachusetts, Maine and Ohio are just a few states where challenges have been announced in the bid for governor.
Outgoing Texas GOP Chair Allen West is among several candidates set to run against current Texas Gov. Greg Abbott (R). Abbott is up for reelection to a third term and has already received an endorsement from President Trump. The two have shown support for one another, even recently by joining forces in visiting the border to address Joe Biden's immigration crisis.
As I have said, this is not "my" race, nor is it about me. I am running for "We, the People." I cannot do it without you. I hope you will consider volunteering for the campaign. Together, we will "Defend the Texas Republic!"https://t.co/3sWZzYu2JY pic.twitter.com/NuO51Qu0cR

— Allen West (@AllenWest) July 8, 2021
Critics have said other candidates may have a hard time winning against Abbott, though a recent poll showed Abbott's approval rating at 44 percent as many have criticized the way the governor has handled the pandemic. This comes as the handling of COVID-19 has appeared to be the running theme in the gubernatorial campaigns nationwide.
Republican Geoff Diehl has also announced his run for governor in Massachusetts. Current Massachusetts Gov. Charlie Baker (R) has the opportunity to run for a third term, but has yet to give a formal announcement.
Diehl is said to have been highly involved in President Trump's 2016 campaign in Massachusetts and critics have said he may fair better among Trump supporters when it comes to a run against Baker, as Baker supported the impeachment of Trump following the Jan. 6 Capitol breach.
Former Maine Gov. Paul LePage (R) has also announced another run for governor, challenging current Democrat Gov. Janet Mills. Trump and LePage have both openly criticized Mills on her reluctance to reopen Maine in 2020.
In am in. I am running for Governor of Maine.

We must work toward building a better future based on individual liberty, fiscal responsibility, and an economy which empowers everyone including our rural communities.

Chip in: https://t.co/Xb5s7rREEO pic.twitter.com/i0tcinzQ2C

— Paul LePage (@PaulLePage2022) July 5, 2021
Meanwhile in Ohio, former U.S. Rep. Jim Rencacci (R) has said he is running for governor and will challenge current Gov. Mike Dewine (R). Trump had previously hinted at a primary for Dewine last November and had endorsed Renacci's 2018 Senate bid.
While some Republican candidates have said they don't feel they need Trump's endorsement, Trump has said otherwise. The 45th president claimed without his support, "they're not going to win."