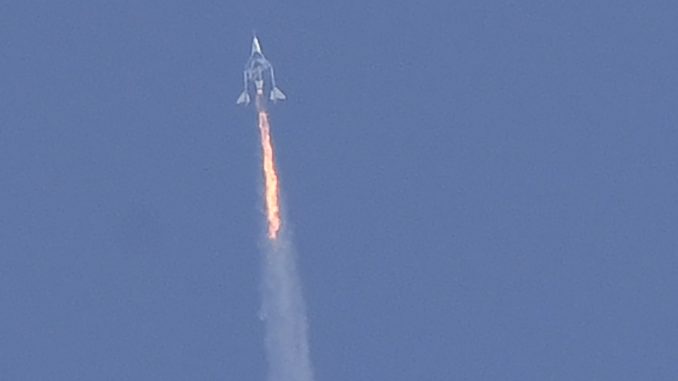 OAN Newsroom
UPDATED 2:37 PM PT – Sunday, July 11, 2021
Virgin Galactic blasted into space with founder Richard Branson onboard for a 90 minute suborbital flight. VSS Unity lifted off from the company's launch site near Truth or Consequences, New Mexico on Sunday morning.
The Virgin Galactic founder joined five company employees for Sunday's test flight to demonstrate the safety and plausibility of an emerging commercial space marketplace. The VMS Eve, the carrier mothership, soared to an altitude of more than 50 miles before releasing the space plane.
"I've done some really ridiculous things in my lifetime, but this is truly, truly ridiculous," Branson explained. "I wish that the whole world can experience this. It's the complete experience of a lifetime."
I was once a child with a dream looking up to the stars. Now I'm an adult in a spaceship looking down to our beautiful Earth. To the next generation of dreamers: if we can do this, just imagine what you can do https://t.co/Wyzj0nOBgX #Unity22 @virgingalactic pic.twitter.com/03EJmKiH8V

— Richard Branson (@richardbranson) July 11, 2021
The flight crew had about three minutes of weightlessness before reentering the atmosphere for a spiral descent. Branson wasn't supposed to be onboard until later this summer, but the billionaire adventurer jumped on an earlier flight soon after Blue Origin's Jeff Bezos announced his own spaceflight set for July 20.
Virgin Galactic has plans for two more test flights this year before boarding paying customers. So far, 700 people have purchased tickets with the company's upcoming space tourism busses at $250,000 each.
At the conclusion of today's mission, Branson gave a ceremonial speech in which he welcomed the worldwide audience to a new dawn in space travel.