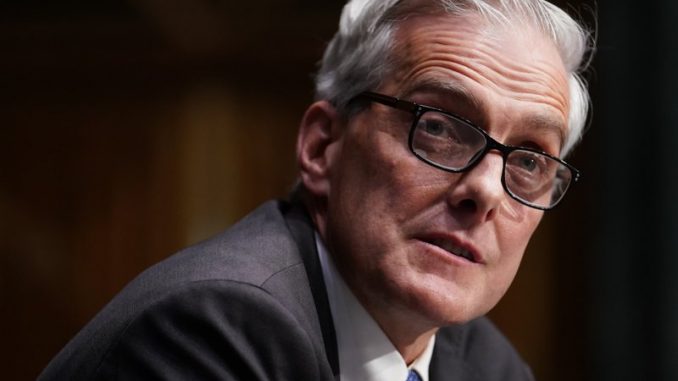 OAN Newsroom
UPDATED 11:52 AM PT – Sunday, July 11, 2021
As Republican governors across the country have banned gender reassignment for children, the Secretary of Veteran Affairs announced the taxpayer funding of gender reassignment for veterans. Veterans Affairs Secretary Denis McDonough has pushed for free gender reassignment surgeries for veterans.
McDonough estimated this would cost taxpayers up to $71 million for about 3,000 veterans annually. However, for McDonough the up front costs will save tax dollars in the long run.
"We also think that these are manageable numbers and overtime," he explained. "If we make this investment, we'll save costs on things like mental health care treatment and other health care problems that would result of our transgender vets not having access to this care."
I was glad to speak openly with VA's press corps today on a variety of topics and how @DeptVetAffairs continues to provide the best care for our nations Veterans, families and survivors. pic.twitter.com/vJp3cPPf27

— Office of the Secretary of Veterans Affairs (@SecVetAffairs) June 30, 2021
McDonough said Joe Biden picked him to advocate for veterans and for that reason, the administration would allow him to do what he found to be necessary to help all veterans. He implied that veterans of color and LGBTQ veterans particularly earned the help.
"That's what he expects of me to make sure that we're doing the best that we can, offering world-class health care and timely access to benefits for all veterans," he stated. "Be they veterans of color or LGBTQ+ veterans, our job is to get them all the service and the care that they've earned."
President Donald Trump's administration banned those diagnosed with gender dysphoria from serving in combat and disallowed government funding for gender reassignment treatments and procedures. He did so after President Barack Obama permitted openly trans people to serve.
Obama administration also allowed for the taxpayer funding of so-called gender affirming care and psychological treatment. Joe Biden signed an executive order overturning President Trump's ban as one of his first acts in the Oval Office.
.@SecVetAffairs just told @arishapiro @NPR that VA believes roughly 530 transgender veterans a year would seek gender reassignment surgery through the department. The benefit won't likely be available for at least two years.

— Patricia Kime (@patriciakime) July 8, 2021
Biden went on to say, "Essentially, we're restoring the situation we had before with transgender personnel who have qualified in every other way to serve their government in the united states military."
Now that the policy has gone full circle, McDonough says it needs public comment and approval before being reimplemented.
"One, we have to do this pursuant to statute and two, we have to do it publicly, subject to public comment," he expressed. "We'll want to hear the public's comment on this and obviously, we'll address those concerns as those comments come."
McDonough said the decision to begin the process of allowing transgender military service was a unanimous decision by the Veteran Affairs governing body. He estimated the process would take about two years before the policy was fully implemented.