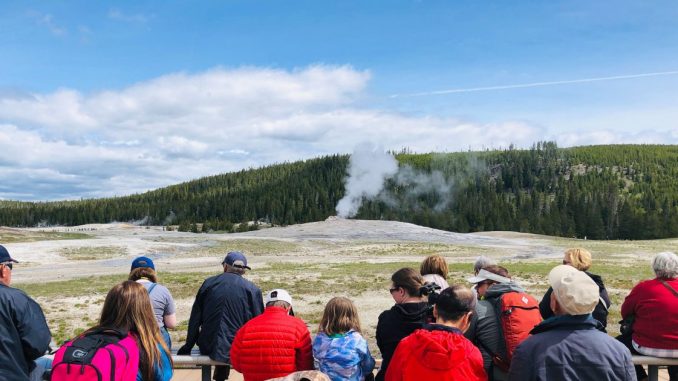 OAN Newsroom
UPDATED 10:15 AM PT – Sunday, July 11, 2021
National parks across the U.S. have welcomed a record number of visitors. People across America have flocked to national parks after months of lockdowns and stay at home orders.
The surge of visitors have exceeded numbers from previous years, which has put pressure on the parks' resources and staff. Parks including Yellowstone and Grand Teton have already broken monthly records and many more have prepared for their busiest year to date.
"It's gonna be a challenging year for all of our staff. With this level of visitation, we simply can't do it on our own," explained Ranger Dana Sohen of Smoky Mountains National Park. "Each person coming to the Smokies has to take some responsibility for their trash and their behavior so we can take care of this place they're coming to enjoy."
News Release: Parkwide vehicle entries through the Fourth of July weekend showed an 8% increase over the same weekend in 2019. This year is compared to 2019 instead of 2020 because of COVID-19. View visitation statistics from the weekend and learn more: https://t.co/Q5Vx54U9Co pic.twitter.com/KNakjCCjdU

— Yellowstone National Park (@YellowstoneNPS) July 8, 2021
Yellowstone Superintendent Cam Sholly said park staff have been working on solutions to accommodate the massive surge of visitors and hope to not have to implement a cap on the number of people permitted to enter the park. This May alone, Yellowstone had more than 483,000 recreation visits.
He went on to explain, "If you accelerate from four million to five million in a year, that has got to serve as a catalyst for new ideas."
Sholly added if visitor numbers continue to grow, the park would need to hire more staff members, temporarily close parking lots and allocate rangers to assist with traffic congestion. According to reports, hikers waited up to four hours for some trails at Utah's Zion National Park. In addition, Utah's Arches National Park had wait times of up to five hours for park access.
The National Park Service stressed July and August are peak months, which led them to believe the numbers would continue to increase into the millions as summer continues.