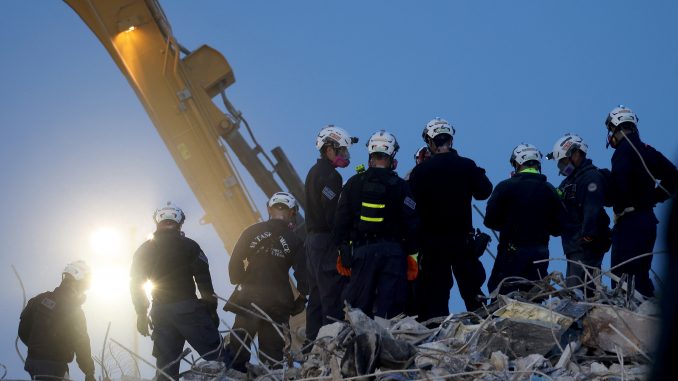 OAN Newsroom
UPDATED 1:10 PM PT – Sunday, July 11, 2021
The death toll has continued to rise in the Surfside, Florida condo building collapse while the efforts of rescue crews have faced setbacks. Authorities in Florida announced a staggering increase in the death toll, which now stands at 90 people. It is believed that more than 31 still remain unaccounted for.
Mayor Daniella Levine Cava called Friday's numbers "heartbreaking" after more bodies were discovered overnight. This comes after the rescue operation transitioned into recovery efforts earlier this week.
Officials announced search teams have been recovering victims quicker since the rest of the building was demolished. Experts looking into the collapse stated there are a multitude of things that could have caused the collapse as they work to eliminate the possibilities one at a time.
It's with profound sadness that tonight we transition our operation from search and rescue to search and recovery.

May God bring peace to all whose hearts have been broken, and may He watch over our community in the hard days ahead. pic.twitter.com/EZgyaj78P1

— Daniella Levine Cava (@MayorDaniella) July 8, 2021
"Once we understand the trigger, we can be looking at how other things in the building, if they weren't done perfectly in either design or construction, how they might have impacted it," explained structural engineer Allyn Kilsheimer. "Maybe something, if it would have been imperfect, part of the building wouldn't have come down. Maybe it didn't make any difference at all."
Since the collapse last month, several Miami area buildings have been evacuated out of abundance of caution. Officials cited possible structural weaknesses and the county has launched a review of all high-rises over five stories.
Officials expressed gratitude for response teams around the world as well as teams from around the country who have assisted in what Levine-Cava calls "the largest ever non-hurricane emergency response effort" in the state's history. Cava also credited the diligent work of investigators in verifying all reports of those unaccounted for and working with the families to open missing persons reports.