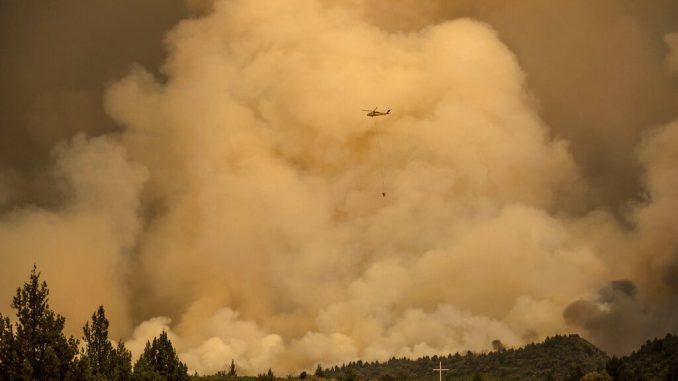 OAN Newsroom
UPDATED 2:13 PM PT – Saturday, July 10, 2021
Footage of a terrifying fire tornado was captured in Northern California. The U.S. Forest Service released the video on Friday, which showed the fire swirl coming dangerously close to firefighting equipment.
The footage was captured as firefighters battled the Tennant Fire near the state's Klamath National Forest. The fire has so far burned more than 10,000 acres and was described as 91 percent contained.
Nearly 1,000 firefighters, aided by aircraft, have battled this and a second fire dubbed the Lava Fire. That blaze has so far burned more than 25,000 acres and was reported to be more than 70 percent contained.
Here is an updated and extended version of the fire whirl from the #tennantfire a few days ago provided by @CAL_FIRE and @R5_Fire_News pic.twitter.com/4JcsSMQzXl

— NWS Medford (@NWSMedford) July 8, 2021
The Tennant Fire started on June 28 in Klamath National Forest, with officials still investigating the direct cause. Although crews have been attempting to isolate the perimeters of the blaze, extreme heat conditions have made it difficult to contain.
The number of wildfires so far in the year 2021 in California has already surpassed the amount that was recorded for 2020.