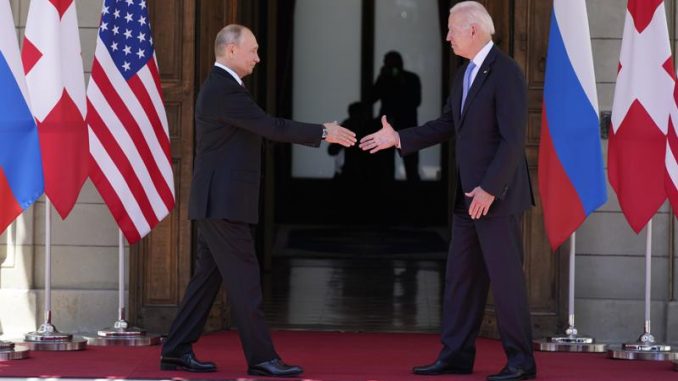 OAN Newsroom
UPDATED 8:16 PM PT – Friday, July 9, 2021
Joe Biden issued a warning to Russian President Vladimir Putin amid growing threats of Russian-backed ransomware attacks. On Friday, Biden held a phone call with Putin and demanded the Russian President disrupt cyber criminals operating in his country.
White House Press Secretary Jen Psaki stated Biden emphasized U.S. demands for Putin to immediately take action against Russian-based ransomware attacks.
"While REvil we know operates in Russia and other countries around the world and we don't have additional or new information suggesting the Russian government directed these attacks," she explained. "We also know and we also believe they have a responsibility."
Joe Biden talks a tough game on Russia only to sit back as they hurl cyber-attacks at us.

Putin is eating our lunch.

— Rep Andy Biggs (@RepAndyBiggsAZ) July 6, 2021
Biden reportedly told Putin the U.S. would take any necessary action to defend Americans and America's critical infrastructure. This came after Russian-linked hacker group REvil demanded $70 million worth of cryptocurrency to end the biggest ransomware attack on record just last week. In total, the attack affected thousands of companies across 17 countries.
Throughout uptick in hacking activity, the White House and Kremlin have been battling over who was to blame for not adequately responding to the attacks. Russian officials claim no agency in the Biden administration has reached out to the Kremlin in the past month to cooperate on stopping the activity.
Since Friday, the federal government has been working to assess the Kaseya ransomware incident and assist in the response. We urge anyone who believes their systems have been compromised to immediately report to the Internet Crime Complaint Center at https://t.co/sVIbk4ldBZ

— National Security Council (@WHNSC) July 4, 2021
However, the Biden administration refuted this claim by saying administrations since the nineties have actively asked Russia to reign in on cyber attacks.
"The United States expects when a ransomware operation is coming from his soil, even though it's not sponsored by the state, we expect him to act," Biden expressed. "We've given him enough information to act on who that is."
Biden went on to say he was optimistic  the call went well and added both nations could move forward to stop future ransomware attacks. Biden stresses he remains committed to establishing regular communication with Putin by hoping to bolster a bilateral relationship with Russia.