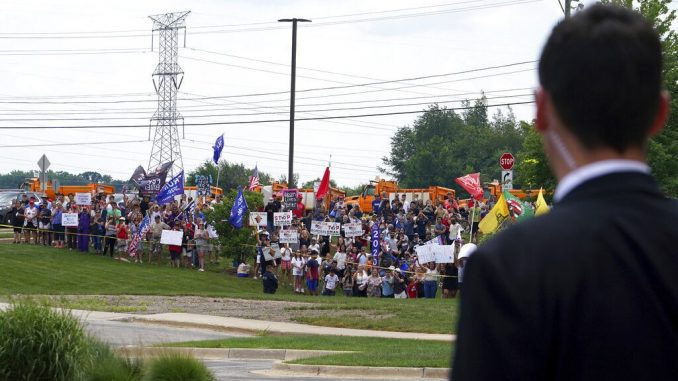 OAN Newsroom
UPDATED 8:28 AM PT – Thursday, July 8, 2021
Supporters of President Donald Trump vastly outnumbered the backers of Joe Biden on his recent visit to Illinois. Here's what protesters had to say about the Biden administration.
Candice Bock and brother-in-law Fred Bock of Crystal Lake speak about their opposition to President Joe Biden's American Families Plan ahead of the president's visit to McHenry County College on Wednesday, July 7, 2021. More than 100 protesters lined up along Route 14. pic.twitter.com/tKQlRNendA

— Sam Lounsberry (@samlounz) July 7, 2021
At least 1,000 Trump supporters showed up to protest Biden's visit to McHenry County, Illinois while asserting his socialist agenda is not welcome in their state. Only 25 people showed up to support Biden.
Republican protesters said Biden's is advancing hyper-partisan policies that are ultimately paid for by U.S. taxpayers. They went on to suggest Biden lacks popular support in Illinois except for the Democrat-controlled city of Chicago.
CRYSTAL LAKE, Illinois – Trump supporters gathered outside McHenry County College in response to Biden's visit. In the 2020 election, McHenry County went to Trump. pic.twitter.com/LGyKOva90l

— ShatteredWorldMedia ? (@MediaShattered) July 7, 2021