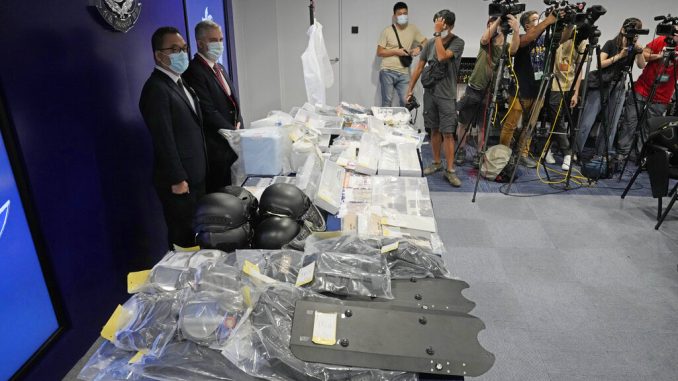 OAN Newsroom
UPDATED 8:23 AM PT – Tuesday, July 6, 2021
Police in Hong Kong arrested multiple people in connection with suspected terrorist activity in the city. Authorities confirmed they took nine people into custody Tuesday after uncovering a plot to plant bombs across the city.
According to reports, the group intentionally recruited six high school-aged students who planned to leave Hong Kong permanently. Officers also froze around $77,000 worth of assets and seized materials, which could be used to make explosives, in a hostel room police have described as a "bomb-making laboratory."
"The things they (wanted to) do is, they wanted to produce TATP and use it to attack some of the public facilities in Hong Kong," stated Senior Supt. Steven Li, Hong Kong Police Force. "Including the cross-harbor tunnel, railways, court rooms and even they wanted to lay the bomb in the rubbish bin on the street with a view to maximize the damage caused to the society."
Senior Superintendent Li Kwai-wah of the #HongKongPolice National Security Department briefed the media on Tuesday on a police operation the day before that foiled an alleged #terrorist plot. #HongKong #HKSAR #NationalSecurityhttps://t.co/aPZSFXtuDM pic.twitter.com/DlxgAqPv4B

— China Daily Hong Kong (@CDHKedition) July 6, 2021
The city's leader, Carrie Lam, has said she hopes members of the community will openly condemn threats of violence. She also blamed "ideologies" for stemming national security risks and advised those who observe such behaviors to report them to authorities.
The suspected terrorist activity follows a sweeping national security law that took affect in Hong Kong last year, which drastically reduced democratic participation in its political system.