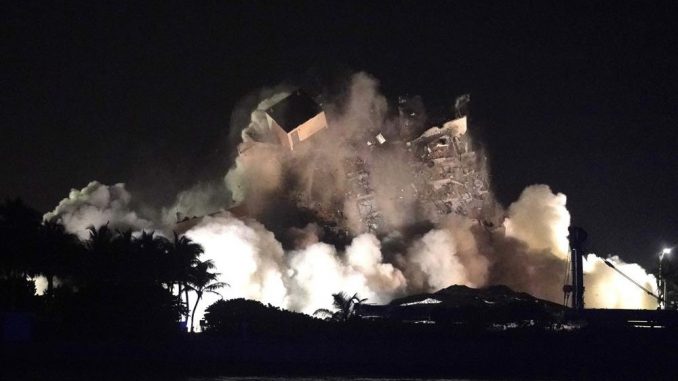 OAN Newsroom
UPDATED 10:11 AM PT – Monday, July 5, 2021
Miami officials have continued search and rescue efforts after demolishing the remaining structure of the Surfside condo building in Florida. On Sunday night, Miami-Dade County Mayor Daniella Levine Cava (D) told reporters the controlled demolition of the remaining condo building took place just after 10:30 p.m. local time and went "exactly as planned."
During a press conference hours beforehand, Cava outlined several preparations and precautions that were being taken to ensure everyone's safety.
"Over the past 48 hours our unified command team has been working tirelessly with the demolition experts to quickly and safely prepare the building for demolition and to create a safety plan for the surrounding area," she announced. "…The demolition itself is confined to the immediate area around the building. However, there is dust and other particles that are an unavoidable byproduct of all types of demolition."
#UPDATE 52: pic.twitter.com/ebY59YNAve

— Miami-Dade Police (@MiamiDadePD) July 5, 2021
Officials in Miami added they hope the demolition will give them access to parts of the underground garage area they have not been able reach due to safety concerns.
Cava went on to explain, "bringing down this building in a controlled manner is critical to expanding our scope of the search and rescue effort and allowing us to explore the area closest to the building, which has currently not been accessible to our first responders."
#UPDATE 54: We have identified two additional victims that sadly and unexpectedly lost their lives in the tragic Surfside building collapse. Please keep their families and loved ones in your prayers. pic.twitter.com/UVbCxsPsOQ

— Miami-Dade Police (@MiamiDadePD) July 5, 2021
Meanwhile, Gov. Ron DeSantis (R-Fla.) weighed in on the process by pointing out the fast arrival of tropical storm Elsa, which added further urgency to the situation.
"We'll just keep watching that and we'll be ready, be prepared, but we're prepared to deal with the impacts of the tropical storm and the Keys and on the west coast of Florida," he explained. " Then obviously, we're going to continue with the mission in Surfside."
While search and rescue efforts continue, North Miami beach has launched a review of all buildings above five stories to determine if they're in compliance with the city's 40-year recertification process in wake of the Surfside collapse.