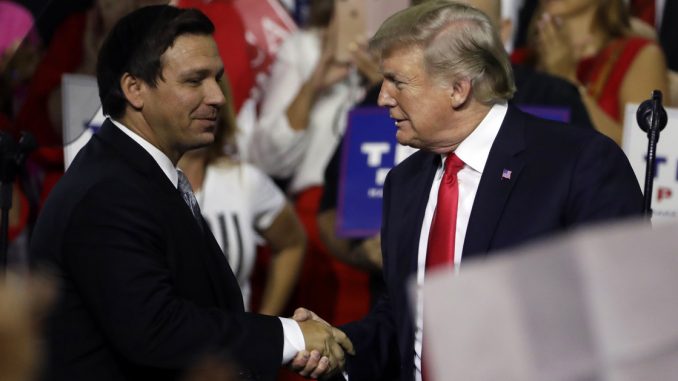 OAN Newsroom
UPDATED 2:15 PM PT – Monday, July 5, 2021
President Trump refuted the latest misinformation by the Democrats about Gov. Ron DeSantis's (R-Fla.) absence from the recent rally in Sarasota. The 45th president said on Monday, he and DeSantis had mutually agreed that the governor would not attend the rally.
Trump insisted DeSantis had a lot of work to do due to the risk of a tropical storm in Florida as well as the demolition works in Surfside. DeSantis has maintained his dedication and commitment to support the affected community of the condo collapse. The remaining structure of the Champlain building was demolished Sunday night.
Thanks to the leaders of the Florida State Legislature, @ChrisSprowls and @WiltonSimpson, for accompanying me to the Miami-Dade EOC and Surfside today, and for supporting our response efforts. pic.twitter.com/woNF2NwT6W

— Ron DeSantis (@GovRonDeSantis) July 4, 2021
Trump's remarks came after mainstream media outlets stirred up baseless claims of a rift between the 45th president and DeSantis following the governor's absence from the rally. DeSantis reported on the work that was being carried out for the state of Florida during the time of the event.
"We're preparing for the risk of isolated tornadoes, storm surge, heavy rainfall and flash flooding. The state has begun executing contingency plans for the tropical storm Elsa and Surfside Co. response," he announced. "I want to thank all the first responders on site and Surfside and everyone here in the EEOC that is preparing for the storm."
President Trump went on to praise DeSantis by saying he has been working very hard for his Sunshine State and had every reason to skip the rally.