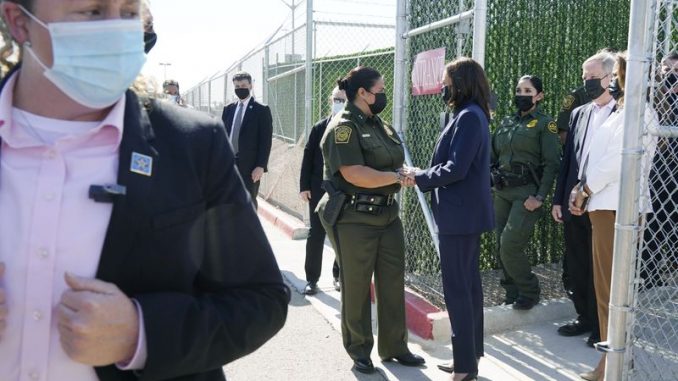 OAN Newsroom
UPDATED 8:55 AM PT – Monday, July 5, 2021
A recent poll suggested the majority of Americans have become fed up with Joe Biden's weak immigration policies. Of the more than 900 American adults who were surveyed by The Washington Post and ABC News, 51 percent disagreed with Joe Biden's handling of the immigration crisis at the U.S. Mexico border.
This year's rate of illegal immigration has been on track to become one of the worst in American history. Many Americans voiced concern specifically with Biden's current policies, which regularly apprehends and briefly detains migrants before permitting their release into the U.S. interior.
The Biden administration tries to deny the crisis on the border exists.

Americans would beg to differ. 80% say illegal immigration is a serious issue right now.

— GOP (@GOP) July 1, 2021
At a recent End the Biden Border Crisis rally in Arizona, Cochise County Sheriff Mark Dannels said he has never seen a wave of illegal immigration this intense.
"Last year this time, just off my Sheriffs office virtual camera system, we had 1,500, right in that area, illegal entries. This year, same time period, we have 15,300 entries" he explained. "…We need to have a secure border under the objectives of public safety, national security and humanitarian."
Tom Homan, the former Acting Commissioner of Customs and Border Protection, weighed in and said he believed the Biden administration was the first to ever actively facilitate cross border crime.
"I'm pissed off and you better get pissed off because the beautiful country I grew up in, we're losing. It's under threat,"
he asserted. "The reason children are dying, women are getting raped, record amounts of fentanyl coming across this country because of Biden's open borders policy. This president sold out this country to win an election."
Thank you for sending state troopers to help secure the border in Arizona, @GovernorLittle.

As the Biden administration continues to ignore this crisis, Governors are answering the call to secure the border and keep Americans safe. https://t.co/F19WPwUkJT

— Greg Abbott (@GregAbbott_TX) July 2, 2021
Also speaking at the rally, former CBP Acting Commissioner Mark Morgan warned what happens at the border impacts the entire nation.
"What happens at this border impacts the entire nation and we have to stand together state by state by state," he announced. "…Get to your governors. Make them, demand them that they get involved and secure our borders."
Morgan has called on Americans to come together with a grassroots effort and hold lawmakers accountable for the chaos they're creating at the border. He went on to recognize Americans have done this before by highlighting President Trump successes in securing the border.