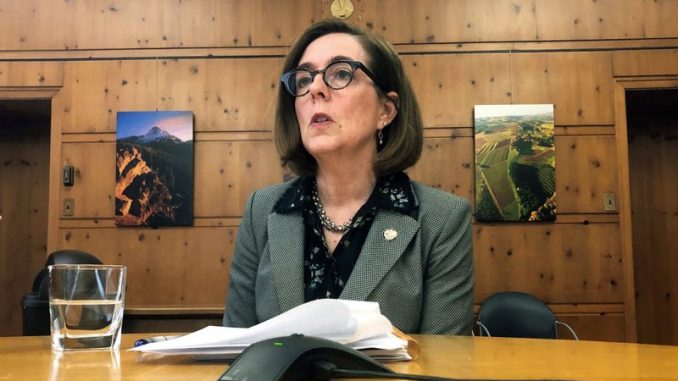 OAN Newsroom
UPDATED 10:45 AM PT – Monday, July 5, 2021
Oregon Gov. Kate Brown (D) discussed what she believes to be the main contributing factor to the disasters her state has seen in recent months. In an interview on Sunday, Brown suggested that so-called climate change has greatly impacted Oregonians.
"We have been working to prepare for climate change in this state for a number of years," she claimed. "What was unprecedented, of course, was the three days of record breaking heat, and it was horrific to see over 90 Oregonians lose their lives."
I was heartbroken to learn that Oregonians died from heat-related causes during last weekend's unprecedented heatwave. My thoughts are with the families who lost loved ones. https://t.co/Jzot1BWrXK

— Governor Kate Brown (@OregonGovBrown) July 1, 2021
Brown went on to say she believes the heat wave is just the beginning of crises in her state.
"We literally have had four emergency declarations in this state at the federal level since April of 2020," she expressed. "In Labor Day last year, we had horrific wildfires. They were historic. We lost over a million acres, over 4,000 homes and nine lives."
According to Brown, the so-called climate change isn't the only problem facing Oregon. She also implied her own state acts in a racist manner and said communities of color are much more likely to be impoverished, which makes them more susceptible to disasters. To solve this, she suggested her state apply focus on working with non-white residents.
"What is really, really clear, that just like we saw during the pandemic, throughout these emergency events are communities of color," she explained. "Our low income families are disproportionately impacted and we have to center the voices of black and brown and indigenous people at the forefront of our work as we do emergency preparedness."
This session has marked a turning point for Oregon. We are better positioned to address the key challenges facing Oregonians: the impacts of the COVID-19 pandemic, wildfire recovery and preparedness, and taking steps to end systemic racism and address racial disparities.

— Governor Kate Brown (@OregonGovBrown) June 27, 2021
Oregon relief programs are not her only target for operational reforms as she believes FEMA also has unacceptable standards for disaster relief. FEMA is the Federal Disaster Management Authority tasked with helping citizens in disaster situations.
Requiring legal residency to qualify for aid is not only too exclusive for the governor as she implied those here illegally are the most important residents in her state.
"So, for example, of the families that lost homes in southern Oregon last labor day fire, several hundred of them were undocumented. FEMA does not provide aid or assistance to these families," she stated. "It is absolutely unacceptable. These families are so much a part of our communities. They're the heart and soul of our culture and they are the backbone of our economy. They deserve the assistance and they need it."
Dissatisfied with limiting herself to one or two Democrat talking points, Brown finished with an aside about policing and argued law enforcement agencies need a "culture change" to solve racial injustice.